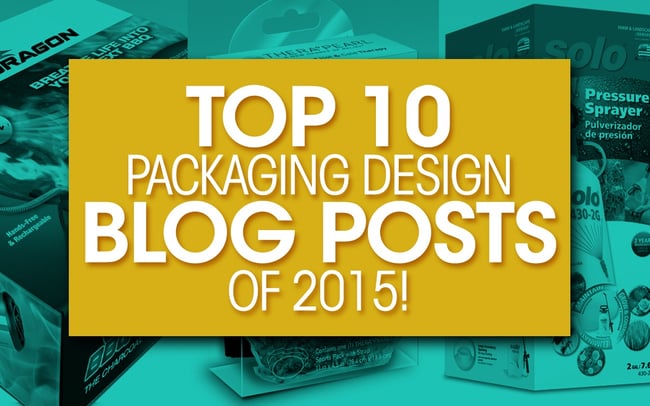 As the year comes to a close, it's a good time to look back and assess what blogs were read most and what our audience seemed most interested in. Now just a word on popularity. These are based on visits to these specific pages. The result can be skewed since some of these posts were just published this year while others have had all year long to tally up.
Here's a list of our Most Read blog posts. All listed in order of popularity...
Far and away the most read blog post. This is an oldie but goodie. I first published this in 2013 but it still keeps gathering the visits. Obviously a topic on everyone's mind! I did a video version of this as well, but it just hasn't caught on yet. Help me out and visit it for me. Improving numbers will make me feel better about it. Maybe it was the acting?
#2 on the list. I had an inkling folks might like a page like this. Packaging design blogs are pretty cool to look through. A LOT of content to spark an idea, see what others are doing, etc. I spend time on many of these sites too.
Calculating the cost of product packaging
Notice a trend here? Cost, pricing, it usually comes down to money.
Is A Clamshell or Blister Package Right For Your Product Packaging? - Interview With A Thermoformer
When you explain something that isn't understood to many, you'll find some interest AND traffic. I'll have to reach out to other package printers as well. They are an encyclopaedia of package info.
Why Retail Packaging is Gaining So Much Importance
5 Ideas For Packaging Your Product On A Budget
Obviously many people try to get their product packaged for the lowest amount possible. Not always the best approach in my view.
Three Ways To Attract More Customers With Effective Packaging Design
Well if it isn't effective, they aren't buying!
4 Reasons Package Rebranding Goes Wrong
Top 4 Facts That Determine The Cost of Product Packaging
There's that 'C' word again. I'm just going to do an all COST blog schedule from now on.
10 (MORE) Tips To Your Successful Packaging Design
Anyone interested in packaging their product right can never get enough information. We always look for ways to improve too.
As you can see blogging can bring in some traffic. Perhaps your business website needs some help in that area? Don't hesitate to reach out. I'm happy to talk blog or inbound marketing with you as well as packaging.