The Internet has certainly changed how we do things. Simple and mundane tasks can now be easily completed with the power of technology. This is very evident in E-commerce. Looking at how and where customers shop shows that online shopping is here to stay. With E-commerce being the catch-all phrase for business done on the internet, a new sub term has popped up: M-commerce. M-commerce, or mobile commerce, is the "buying and selling of products and services over the internet through the use of mobile or cellular devices". While mobile commerce may be conducted on mobile phones, the term extends to any portable/mobile device that has the ability to connect to a network. This includes tablets, notebooks, or laptops.

This guide will cover everything you need to know about M-commerce, including its strengths, weaknesses, and unique features.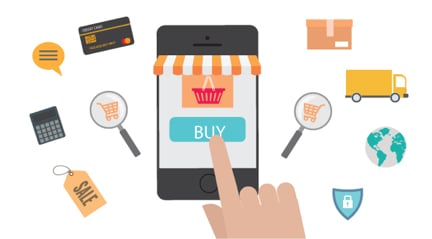 AVAILABILITY
Let's start by looking at why customers are so inclined to shop from their mobile devices. The main reason is convenience. As of 2018, a study concluded that 77% of Americans have smartphones. That is a massive percentage of people that have the ability to shop from their phones. Mobile phones have their own batteries, so consumers are not tethered to an outlet or required to go to a physical store, allowing them to shop on the go. Since most people carry their phone with them at all times, they now have a substantially higher amount of time to shop compared to the days before M-commerce. For businesses, this naturally increases the probability of making a sale.
SECURITY AND PRIVACY
Security and privacy are not issues exclusive to M-commerce, but they are still prevalent. Everyone wants their data to be safe and in proper hands, but there is a large fear that this isn't the case. Customers do not trust online sites to protect their information so they don't use the full capabilities of mobile browsing.
One way companies can improve their security is to add security banners to their checkout process. Adding the logos of the security program you use, such as PayPal Secure, helps reassure customers that their data is safe. Another way to make your site more secure is to add HTTP Secure or HTTPS. This is a safer version of the normal HTTP URL. It is a simple change that can give your customers peace of mind.

OPTIMIZATION
Mobile displays content very differently than the traditional desktop view. The view on mobile is very compressed so it fits on the smaller screen. This means that content, websites, and apps need to be optimized for mobile. When done correctly, a mobile experience can be easier than the desktop experience. When done poorly, it is a frustrating process most people won't return to. It is not enough to put your desktop website on mobile, as customers expect a separate experience tailored to mobile. Studies show that a proper mobile strategy has a positive impact on sales, as the better the optimization, the more likely customers are to buy.
Within mobile, there are subsets of devices. Tablets, phones, laptops, and more all act in different ways. Mobile users tend to use apps rather than searching for a site in a browser. Tablet users trend towards the opposite, using more browser time than app time. Smartphones account for a higher share of M-commerce than tablets, but smartphones earn less per device. On a per-user basis, tablets drive 20% more in sales than phone users.
PAYMENT OPTIONS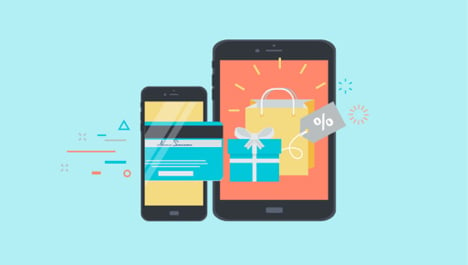 Having several payment methods can be both a positive and a hindrance. A commonly cited study from 2000 shows that a higher number of payment options leads to a decrease in sale and satisfaction. It is important to have a few different options such as PayPal, credit/debit card, and whatever is regionally preferred. If you are selling internationally, be sure to look into what payment method each country prefers. For example, in Holland, the common method is iDeal, so if you plan to sell in Holland, be sure to include that payment method.
There a great number of benefits to using mobile for commerce, but there are a fair share of challenges. This guide should expand your knowledge of the M-commerce space and help you optimize the M-commerce experience while avoiding common pitfalls.
DON'T GO IT ALONE
Give us a call for advise "live" from Don Keller. Don is available to answer any questions that you still have and will help get your mobile site set up and running. Call 1-888-337-0066.

Continue reading about commerce by going to these articles:
Customer Engagement Online Strategies
Social Media Referrals Deliver eCommerce Success
eCommerce and Social Lets Smaller Brands Compete