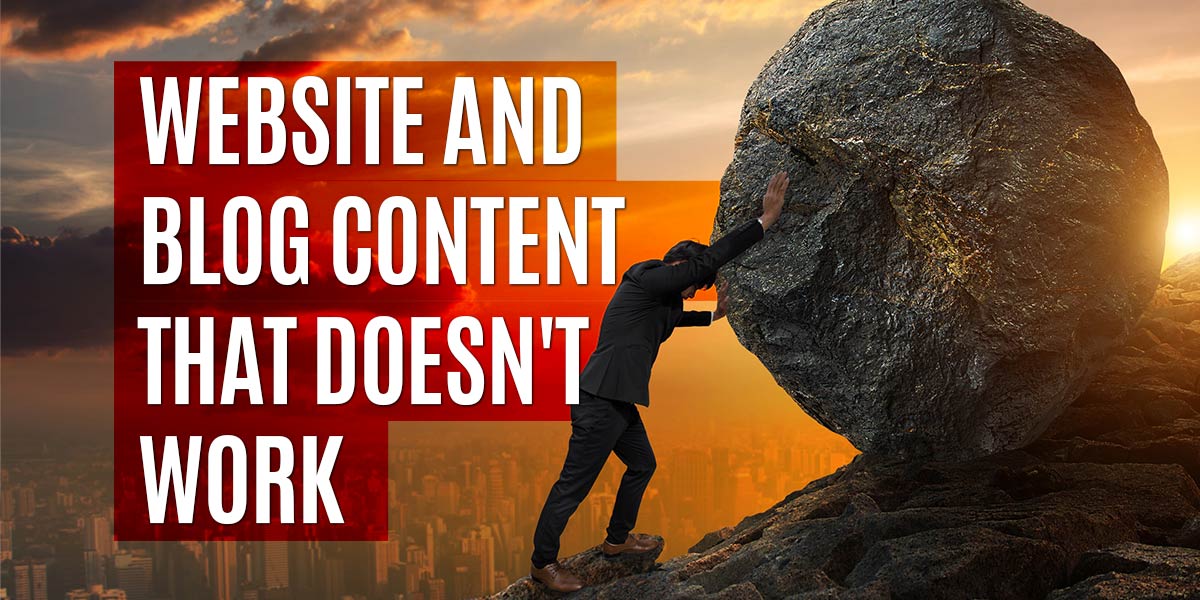 Writing and posting to improve ranking is not just about the quantity. Many advisors will tell you more is better and that can be true. But the reality is that writing content that is not created around your SEO strategy will have limited ability to produce results. Frequency of posting new content has significant impact on the results of your SEO efforts efforts. Equally important is that the content supports the keywords you are claiming as your expertise.
I have seen a company providing deep tech support to clients posting blogs about accounting and tax strategy. They aren't accountants, CPA's nor offering small business operating consultation. A blog about tax deadlines is not supporting their core service ~ protecting their customers digital assets and computer hard and software function.
Watch out for the package deals
Everyone who offers to help improve your search engine rankings with SEO services provides some level of content development and optimization. Their success will only be possible if they customize their efforts for you and understand your primary audience. That includes what your customer is looking for and responds to. Many companies offer low rate services because they have a standard formula that they fit all their clients into so they can automate and execute content quickly. They would be developing content they can use for multiple clients with simple copy editing. They have a formula to keep time to a minimum yet be able to state they delivered on their contract which ends up not delivering what the client needs. The successful providers like Skywords, Wordstream and many small local provider take the time to:
Consult with you and research the online motivations of your target audience
Write content that has sufficient depth of information and details taht includes keywords your customers search
Customize strategy to your business
Include embed internal and external links within the article or landing page
Determine whether there are variables that impact consumer interest like seasons, holidays etc. and include adjustments in the program to optimize for the affects of the variables.
They are successful at:
Attracting qualified traffic to your website because they take the time to define your best target and work over time to optimize results. It's not do once and done.
Increasing monthly qualified conversions for their clients because content uses keywords and phrases your best customers use and content speaks to their pain.
Getting content to rank within the first few positions of search results
I have listened to many unhappy clients that gave a lot of money to companies that made promises of increasing traffic to their website. The traffic increases but doesn't increase leads or sales. This could be because the visitors are not quality and/or content did not push the visitor to the next step in the sales funnel. If the price for SEO and digital marketing services is less than a reputable local company there has to be a reason. Are they are selling the same content to more than one company or using cheap offshore writers who don't understand the mindset of the US consumer? Is the package price providing the amount of work needed to provide the results you want or need? Your budget may be too low t deliver the results you want and they didn't communicate that clearly to you because they were focused on closing you a a customer.
Unfortunately there are development firms that claim they know all about SEO, but operate based on a model that doesn't have staff to meet daily quotas of content or use offshore writer who don't understand the U.S. consumer or English is not their first language. The amount of work they need to put out forces the writer to copy and paste as much information as they can reuse, leaving their work unoriginal and duplicated. Google doesn't like duplicate content and can penalize sites for it.
Many businesses and brands have been burned by these types of providers and they find it impossible to trust another company. I hope you don't feel this way. There are quality providers that measure their success by delivering on promises and make sure their clients understand the reports generated. They also offer a trial period of 3 or 6 months. Yes, it takes time to get traction from digital marketing - especially content. You can get 1st page position quickly with PPC campaign strategy that has a large enough budget. Once you turn off the PPC the volume of visitors will go down.
What worked 2 years ago, 10 years ago won't deliver the same results today. Google's objective is to deliver search results that answer the visitors need. You can't cheat the system the way you could years ago. But that's fair - you just have to continually feed that content system with copy that proves your authority on the subject. There are great professionals available to create the content with your direction and resources. You'll know them when they take what you provide and listen to you then deliver writing that proves they got what you told them. They don't have to be experienced in your profession they just have to get you and know what triggers your prospects to act.
Related Articles:
SEO Tips to Boost Rankings for WordPress Sites
Tips for Spreading Awareness of Your Online Business
How to Write an e-Commerce Product Description?
Download Our Free Guide About SEO: