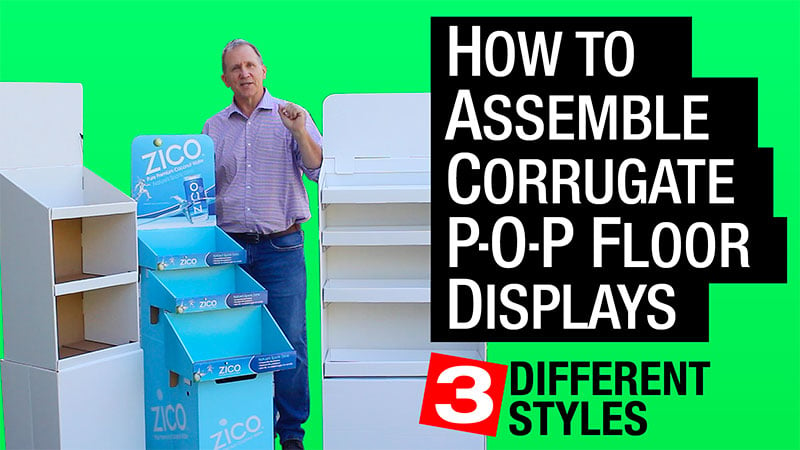 I'm going to show you three different custom floor displays that we've created and how to assemble them.

4 Shelf Point of Purchase Floor Display
These displays are already pre-assembled so I'll take them apart, that's why some of them have already been formed into shelves. If we were to take this piece apart you see that it's a basic flat, pre-cut piece of cardboard that has been sized to fit a specific number of products in the entire floor display.
When it arrives to you it will come packed flat, pre-cut, and printed. (This one is unprinted at the moment) and you'll need to put it together.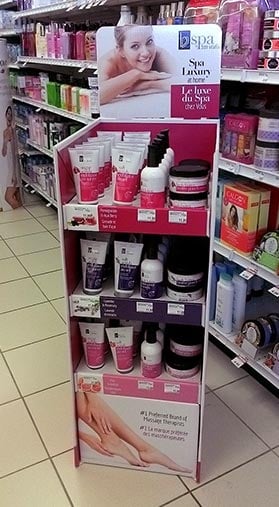 It's fairly simple. This shelf goes together by itself pretty easily because it's already been assembled before. You could do this on a table to make it easier on yourself. I'm out here in nature because it's just a little easier for us to shoot. You can see that tab A folds into slot B on all 4 sides and we've got one shelf if you did that four times of course you're going to have four shelves.
Then we've got the base unit, which again will arrive flat, this will be printed. It might not be quite this wide, but the purposes of this video this is how it came to us.
You can see right away this is how big this piece will be. This section would have your branding here at the bottom. The shelves go across the top and middle and that's what holds the whole piece together. To attach the shelves to the body of the display we've got these little plastic clips. Not every display comes with plastic clips but this one did.
So these are fairly easy to put together. Let's see how fast I can do this. When you get your display it may or may not be as easy to put together like this. Sometimes these are glued to the side of the display which make it a little bit tougher to get them in place. We've have these shelves in and out of the display a couple of times which makes it a little easier to assemble.
Now that we've done that the next step is putting the shelves on the display. These shelves have been constructed so they accept the clip. This is what holds this whole piece together. Putting the shelves in place is the trickier part of this particular display. That wasn't to bad. Then we top it off but the header card which will be printed
Once assembled this display is fairly sturdy and ready to accept your product.
So here's one floor display put together and assembled.
3 Shelf Point of Purchase Floor Tower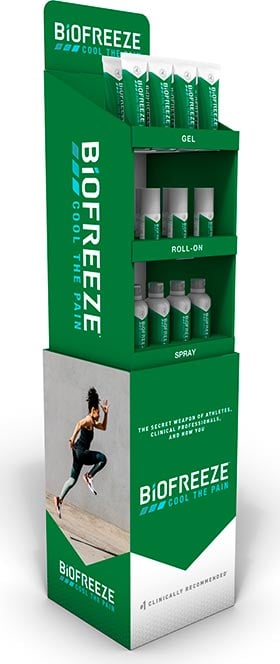 Image © Biofreeze®
We've got a second floor display for you. This is a different style than the one we just finished. This will arrive flat, and un-assembled. This entire floor display is right here in this small pile. You can see how small those sections are. What we're going to do here is again just fold this up. you can see the bottom of this piece is kind of folded together like that. Then these pieces fall into place
Two cross-sections go in the middle of this piece to provide stability for the rest of the unit. Then we've got the body of the display. I might have to take this apart so I can figure this out. If you have self sections you've got tab A and slot B going together to form your shelves. Then the sides of the shelves lock into the body. One all the shelves are locked together it gets topped off with the header card.
You can see this one is a little more narrow than the first one we put together.
This is pretty sturdy, and was intended to hold a liquid product.
The difference in this one is you have four sides, the front of the shelves and the header card for branding.
This is a nice 3 shelf unit.
3 Shelf Tiered Retail Floor Display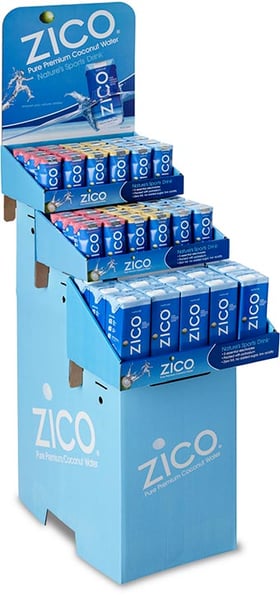 The last piece we're going to put together, which is already put together but we're going to take it apart and put it back together again for you.
This last floor display is a 3 shelf tiered unit, which is pretty popular. People really like this design and I can understand why; it looks good and displays your product well, but it is going to be on the expensive side so consider that if you are considering this type of floor display.
This base piece, which is what this is, folds up pretty small. The shelves and the other items to this display, while they're not flat at this point, would fold up to probably no bigger than the base and ship in a flat box.
This is pretty easy to put together it pops together quickly. The way this thing is built, as you can see, it's die cut and scored to fold together and make the shelf platform.
So far you got three shelf platforms. It's starting look like a display. I didn't take these trays apart, but they come flat.
This particular unit has a really nice litho laminate printing method on it.
Sometimes pieces can be printed digitally. I don't know if you can see the the nice finish these have - nice and glossy.
Digital printing still gets pretty glossy but it's not quite as nice as litho laminate printing.
These would come flat. They come with the tab A into slot B, or something similar.
They fold up into shelves. Each shelf has a little tab here which connect them to the display itself and in this case have an extra piece that fits on the bottom interior of this tray to hide of all the extra pieces that you might see in there. But when your products in there you're not you're not going to see them.
The second shelf does the same thing, third shelf again same method of putting this together.
And of course the header which finishes off the unit. You can see it looks good and holds together well. This display was designed to hold a liquid product so this can really hold quite a bit of weight I would say between 40 and 50 pounds. They can really stand up for quite a bit
If you are interested in a floor display, whether it's a stock floor display or a custom floor display, give us a call. 410-337-0066
Here's our three displays we put together for you. I hope you found this entertaining and helpful. Please Subscribe at the link below so that the next time we come out with more information you'll be the first to know.
Until next time - thank you.
Do you need help developing your brand?
Download this worksheet to help you get started.