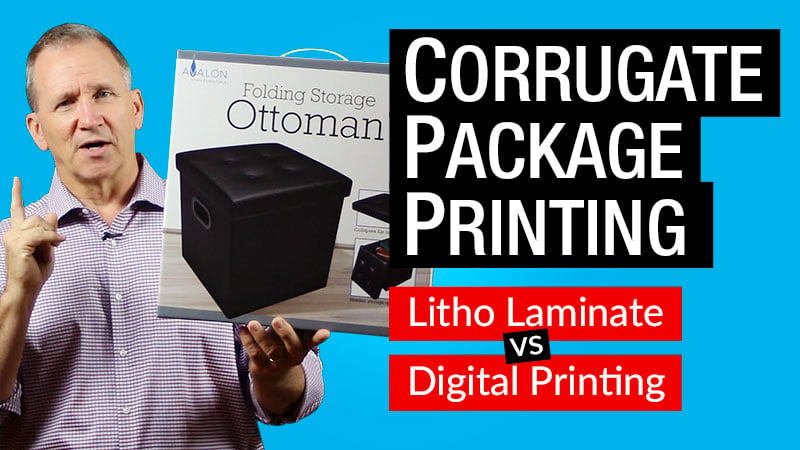 We're often asked what is the best way to print my package. The answer depends on your needs. Are you developing a prototype or, are you ready to produce high quantities of your product?
In this article we cover the different types of printing as well as the best option for your specific needs.
What are the types of printing available for corrugate?
Today we're going to talk about corrugate printing. Specifically, we're going to talk about litho laminate corrugate printing versus direct to corrugate digital printing.
Litho Laminate Printing
First up, we've got a Litho laminate box here. This box was produced using litho laminate. Litho laminate is the process of printing a litho sheet in an offset press. So we're printing an offset sheet of paper, on very thin stock, that is then laminated to the corrugate. Once it's laminated to the corrugate, it's then die cut and scored and then it could be glued and folded into the box you see here.
Direct to Corrugate Digital Printing
Direct to corrugate digital printing, meaning that it was printed directly on the corrugate surface. The difference you're going to see between the litho laminate version and direct to corrugate digital printing is the sheen that would be available would be the sheen that you're going to see off of the stock itself.
Direct to corrugate digital printing, meaning that it was printed directly on the corrugate surface.
When I say sheen, I mean like a varnish or an aqueous coating. Sometimes even in a gloss laminate is applied, which could make the box just look a lot glossier than what you see here.
What does this mean for my project?
There are some reasons about why you would choose one over another. Usually as it comes down to, as in all types of printing, is cost. With direct to corrugate digital printing, the cost usually makes more sense in low quantities.
Low Quantity
So if you're going to be doing a couple of hundred pieces, that is you're going to test your product in the box or you need samples to send out to a buyer to see your product within the package. Since packaging is obviously very important when you're dealing in the retail sales, and even becoming more important for online sales as well.
When you're doing low quantities it makes more sense for a mailer or a presentation box, or as sample boxes that you're creating.
High Quantity
With litho laminate the quantities that you really should be quoting will be a about one thousand quantity and up. Usually it makes more sense in the 5,000 quantity because there are some costs associated with associated with litho Laminate version of printing that you don't get with digital. And those are the die line and the die for cutting this box shape out of the corrugate and the plate charges.
It usually it makes more sense in the 5,000 quantity when quoting litho laminate projects.
These are what they call one-time charges. Meaning when you print this the first time around, those are items that need to be done. You can't print it without them, but when you come back for a reprint, then those pieces are already done and they won't be a charge for the next run of printing.
So obviously it makes more sense when your quantities are higher and you know that you're coming back for another run of boxes and a future date. Again, the differences between litho laminate corrugate printing and digital direct to corrugate printing are that the costs associated with litho laminate are more suited to higher quantity projects. And digital printing is really more associated with lower quantities.
So I hope that makes sense. And if it doesn't, if you have further questions, please leave a message for me in the comments boxes below. I'll be happy to answer any questions you might have. Thank you.
Related Articles:
How much will my packaging cost?
Stunning Beauty Packaging Design Secrets Revealed!