I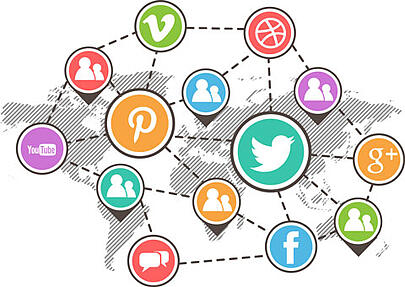 n our digital age, brand identity is everything. Now more than ever, audiences interact more with brands than with actual people. That being said, it's important to establish a strong brand image. But how do you do that through social media? Here are some helpful tips that should help your brand to see success:
Get Visual
This year, marketing trends are buzzing around visual content. Considering popular online video views have topped 50 billion views each month, it's very clear that we are now marketing to an extremely visual audience. That's why it's important to establish your brand on visual social media platforms, such as Pinterest and Instagram. This will help to broaden your scope online and help to attract more customers, fans, and leads.
Encourage Experience
Often times, many brands will hold social media contests that focus on giveaways and lotteries. While this tactic is by no means new to marketing, it is no longer a viable way to connect with an audience. Instead of having your customers and audience merely witness, encourage them to contribute to your company's story or brand identity.
That being said, experience-based contests are effective. For example, if your company is having an Instagram giveaway, encourage your followers to capture a moment that encapsulates your branding strategy and mission and have them tag your company. This won't only create an experience that's unique and fun for the consumers, but it will increase engagement, help to find new leads and bring in even more revenue. After all, 62% of millennials feel that content drives their loyalty to a brand. What better way to do so than through encouraging them to contribute to the narrative while further building a brand image?
Maintain Strategic Transparency
The goal of Internet marketing should be to market your brand and services as well as possible while keeping the humanity and relatability in your brand image. When it comes to social media, nearly everything is smoke and mirrors these days. From web design to product packaging, it can be easy for customers to forget the faces of the company if you're not careful. That being said, social media is a great way to showcase strategic transparency. This means being honest (to an appropriate degree) with audience members and customers, providing behind-the-scenes exclusives and introducing them to your hardworking team.
Research says that over 75% of U.S. consumers view customer service as the ultimate litmus test of whether or not a brand values them.
You can engage at a more personal level by showcasing your employees and the hardwork they do for customers. Trust is built over time but the first step is getting a customer to give you that opportunity. Humor is one way to make a big impression. What is the craziest thing an employee did to make sure a customer had a great experience?
Watch the results of your efforts and don't be afraid to adjust you strategy. Take advantage of Google Analytics and any measuring tools at your disposal. They will let you know (along with customer feedback) whether your efforts are helping or hurting.