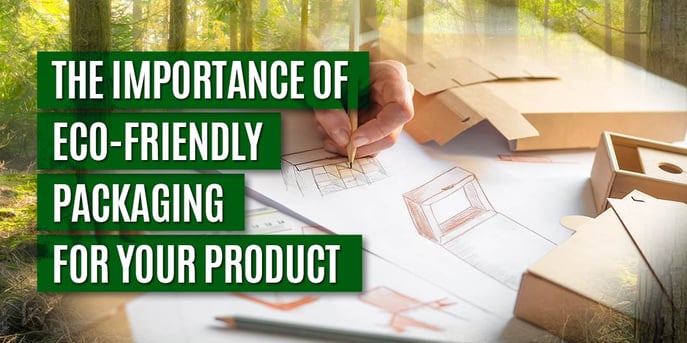 Choosing the right materials for your product packaging can have a major impact on the success of your product in the marketplace.
While the packaging design you create is crucial in increasing brand awareness, protecting your product, presenting your offerings, and communicating with your customer, it also essential in putting forward the right image of your company.
Choosing recyclable materials to package your products is becoming increasingly important as more and more consumers are taking note of a brand's commitment to sustainable and environmentally friendly business practices.
Consumers Prefer A Responsible Approach
In a recent study, more than 19,000 consumers from a total of 28 countries, aging from 18-73 were surveyed regarding their purchasing decisions and how they are changing. The findings highlight just how important the materials used in different products and their packaging is to consumers.
With this information, manufacturers, distributors, and retailers have a real opportunity to elevate their brand in the mind of consumers, present a caring, compassionate, and forward-thinking company image.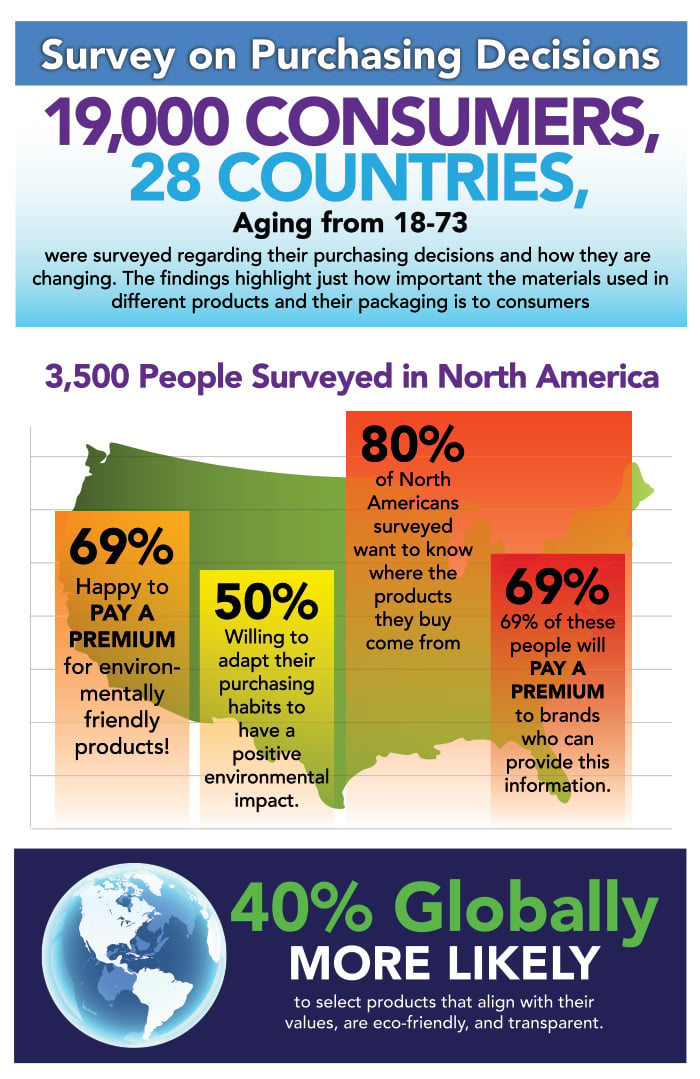 In North America, 3,500 people were surveyed, and 69% of those consumers are happy to pay a premium for environmentally friendly products.

More than 50% of those surveyed are willing to adapt their purchasing habits to have a positive environmental impact.

80% of North Americans surveyed want to know where the products they buy come from and 69% of these people will pay a premium to brands who can provide this information.

Globally, 40% of the group surveyed is more likely to select products that align with their values, are eco-friendly, and transparent.
Build A Positive Relationship With Your Customers
With consumers putting so much emphasis on a company's commitment to the environment, you need to ensure that your business is seen to be taking the right approach.
However, with 90% of business leaders acknowledging that going green is the solution, how can you ensure that your brand stands out when almost every business is making an effort to do better?
More than 80% of millennial consumers expect the companies that they buy from to make a concerted effort to commit to eco-friendly practices. To ensure that you capture this audience, you need to focus on a Return On Relationship (ROR) model, rather than a Return On Investment Model (ROI).
The Importance Of Using Eco-Friendly Packaging
The packaging materials you use are essential. The over-use of plastics and non-recyclable or biodegradable in packaging has led to packaging, in general, being painted in a negative light by many consumers.
When consumers receive your product, they want to see that it is packaged responsibly, using materials that are non-toxic, recyclable, biodegradable, and that will not further contribute to the sustainability issues our planet is facing.
As these issues are increasingly important to the modern, ever-informed consumer, they should also be important to your brand and your business.
Start with assessing your current packaging solution and see where you can make changes to include more eco-friendly packaging materials in your packaging design going forward.
Different Types Of Eco-Friendly Packaging Solutions
There is a range of different eco-friendly packaging solutions that you can use to ensure that your products are well-presented on the shelf and that is well-protected in transit.
Each of these materials can be used in a variety of ways depending on the unique needs of your brand, customer, or product.
Choosing the right packaging material will help your company to reduce your carbon footprint, improve your brand image, increase sustainability, and improve customer satisfaction, which in turn will lead to a healthier bottom line for your business.
Corrugated Boxes
According to the US Environmental Protection Agency (US EPA), corrugated boxes are already one of the most regularly recycled packaging products in the United States. This packaging solution is highly versatile and can be used to package a variety of different products associated with a multitude of industries.
Corrugated boxes are the ideal packaging choice for business owners who want to make a real commitment to lowering the carbon footprint of their business moving forward due to the range of benefits this packaging solution can provide.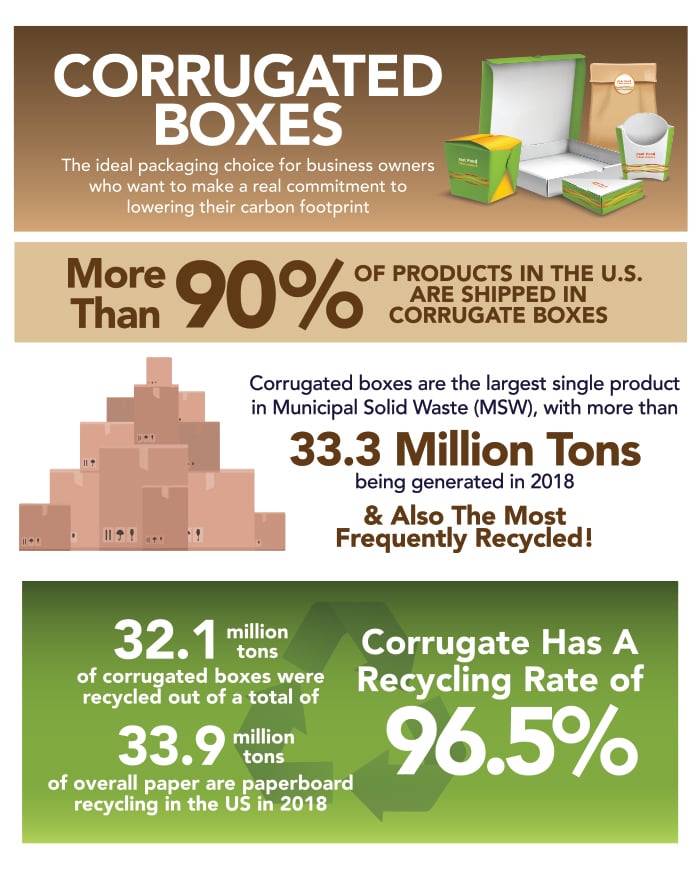 More than 90% of products in the US are shipped in corrugated cardboard boxes.

Corrugated boxes are the largest single product in municipal solid waste (MSW), with more than 33.3 million tons being generated in 2018 and also the most frequently recycled.

32.1 million tons of corrugated boxes were recycled out of a total of 33.9 million tons of overall paper and paperboard recycling in the US in 2018, resulting in a recycling rate of 96.5%.

230,000 tons of corrugated boxes were combusted in 2018, with 940,000 tons ending up in landfills the same year.

In addition to being recycled, corrugated cardboard boxes are also often reused much more often compared with single-use cardboard.
Paper And Cardboard Packaging
Other forms of paper and cardboard packaging are also widely used and recycled in North America and other parts of the world.
Paper and paperboard are used effectively for a wide variety of uses such as folding cartons, wrapping, paperboard boxes, gable-top cartons, liquid food aseptic cartons, and for a range of sack and bag types.
The US EPA found that while corrugated cardboard boxes certainly make up a significant portion of MSW generated, other types of paper packaging products are also included in the recycling system. In fact, it is estimated that in 2018, approximately 1.8 million tons of other paper packaging materials were recycled.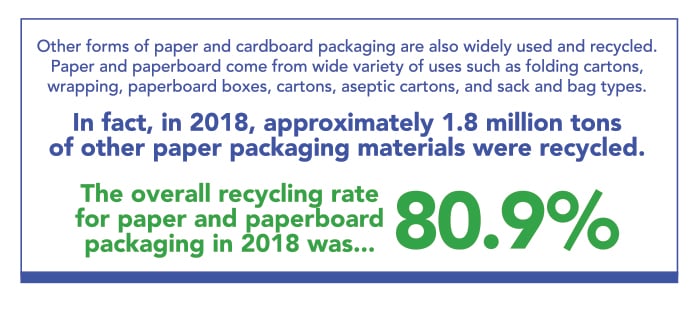 Paper and paperboard packaging make up 75% of all packaging materials recovered for recycling in the United States.

The overall recycling rate for paper and paperboard packaging in 2018 was 80.9%.

3.7% of these materials were combusted for energy recovery in 2018.

Landfill sites in the US received 15.4% of this waste.

Other types of paper packaging, such as sacks, bags, and cartons are generally recycled as mixed papers.
Flexible Packaging
For business owners seeking to reduce their environmental impact, flexible packaging can provide a range of benefits. According to the Flexible Packaging Association (FPA), the flexible packaging segment is experiencing the fastest growth both in the United States and around the world.
Although the FPA has stated that many of the current flexible packaging materials are not yet recyclable, these solutions can help to reduce a company's carbon footprint.
Flexible packaging requires less material to be used, making it a more eco-friendly material than other packaging materials such as rigid PET or glass. For example, it takes just 2.5lbs of flexible packaging to pack 100lbs of liquids versus 84lbs of glass for the same job.
Flexible packaging requires fewer resources to produce, including the use of precious commodities like fossil fuels and water. For example, coffee beans packaged using steel uses 1,605% more water than a flexible pouch while rigid pail packaging will use 1,429% more fossil fuels than its flexible packaging alternative.

Flexible packaging requires less storage and transportation space, reducing CO2 emissions.

Flexible packaging increases the shelf life of food, reducing the amount of waste produced in-store.

Flexible packaging takes up less space in landfill, making up just 4% of packaging materials in landfill sites.
What Strategies Are Working And What Can Your Business Do?
With environmental issues becoming more important for consumers around the world, it's important that you embrace an environmentally-friendly approach to your packaging moving forward.
Recycling technology and processes are improving all of the time and more recycled materials are being included in new products, as well as in the materials they are packaged in.
As a business owner, you have an opportunity to be a part of the solution and not part of the problem.
Taking a proactive approach to reducing your carbon footprint, promoting sustainable business processes, and utilizing eco-friendly packaging materials and solutions will ensure that your brand is well-received by consumers.
Below are some tried and tested strategies that can help you to make a difference in your local business community.
Set Sustainable Packaging Goals
Whether you want to set specific sustainable packaging goals for your organization or unite with other companies who share your goals, such as the 'New Plastics Economy', establishing goals and creating action plans is critical to your success with your sustainability efforts.
Educate Consumers
Launched in 2012 by environmental leaders GreenBlue, the How2Recycle has gone from strength to strength in recent years with the number of brands and retailers increasing by 45%. The goal of the program is to reduce confusion around what can be recycled and what cannot through the use of a labeling system.


Becoming a participant in this program can help you to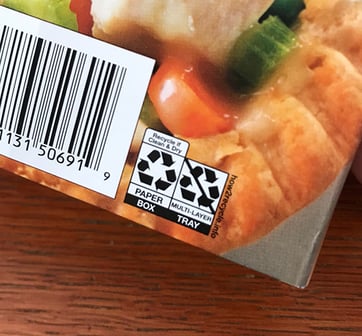 educate your customers about what products can be recycled, encouraging more recycling to occur and the circular economy to grow. In 2019, there were more than 20,796 products that were issued a How2Recycle label. With more than 1,200 different labels available, you can be sure that you will find a suitable solution for your offerings.
Use Recycled Plastics

There is an increased understanding of the need to create a viable market for recycled materials. Encouraging the use of recycled plastics in your packaging will support the viability of recycling in the future.
Avoid Harmful Materials

Poly-fluoroalkyl substances, more commonly known as PFAS, are often used in food packaging and are typically labeled as 'Not Yet Recycled' in the United States. PFAS are regularly referred to as "forever chemicals" as they can be persistent in the environment.

There are already concerns in the scientific community regarding the health impact of PFAS, with some companies already committing to avoiding using this material in their packaging.
It's important to ensure that recycled materials are safe, as they are intended to be part of a circular economy. Introducing toxic materials can result in a state of 'circular retox', which will ultimately cause much more harm than good.
Choose Reusable Packaging Solutions

Opting for packaging solutions that can be reused or refilled will have a major impact on the future health of our planet. Major brands such as Unilever, L'Oréal, and Walmart have all committed to The Global Commitment is led by the Ellen MacArthur Foundation vision for a circular economy for plastic.
Embrace Reverse Logistics
Many e-commerce businesses are also embracing reusable packaging and reverse logistics to reduce the number of single-use shipping boxes and mailers. In time, an e-commerce closed-loop packaging system may be possible, greatly reducing the amount of waste being generated nationally and globally. Innovative companies such as Returnity, RePack, and LimeLoop are already in operation, offering forward-thinking retailers an opportunity to get behind this new initiative immediately.
Make The Switch To Eco-Friendly Packaging Today!
Sustainable packaging will not only help you to reduce your carbon footprint and lower your impact on the environment but it will also help you to increase sales and profits.
With more and more consumers paying attention to what companies and brands are doing in terms of sustainable business practices, making the switch to eco-friendly packaging is crucial to your success going forward.
Failing to take an eco-friendly approach to produce and package your products could have a detrimental effect on the future of your business. There is a multitude of sustainable packaging options available that you can choose from to reduce your environmental impact and to show your customers that you care.
What's more, eco-friendly packaging is just as versatile when it comes to functionality and aesthetics, providing you with an effective packaging solution that is more than capable of standing up to any previous packaging materials you may have used in the past.
With nothing to lose and everything to gain, now is the time to make the switch to an eco-friendly packaging solution for your product. Get in touch with our team at Catalpha today and let us help you to choose a packaging solution that will benefit your business, your customers, and the planet.

Other blog posts you might like:
Custom Sales Kits: How to Wow Your Customers and Increase Your Sales
How To Get Great Product Packaging In 3 Easy Steps
Sources used for this article:
What does recycling packaging do for your buying decisions? I'd be interested to hear. Leave me a note on the form below.