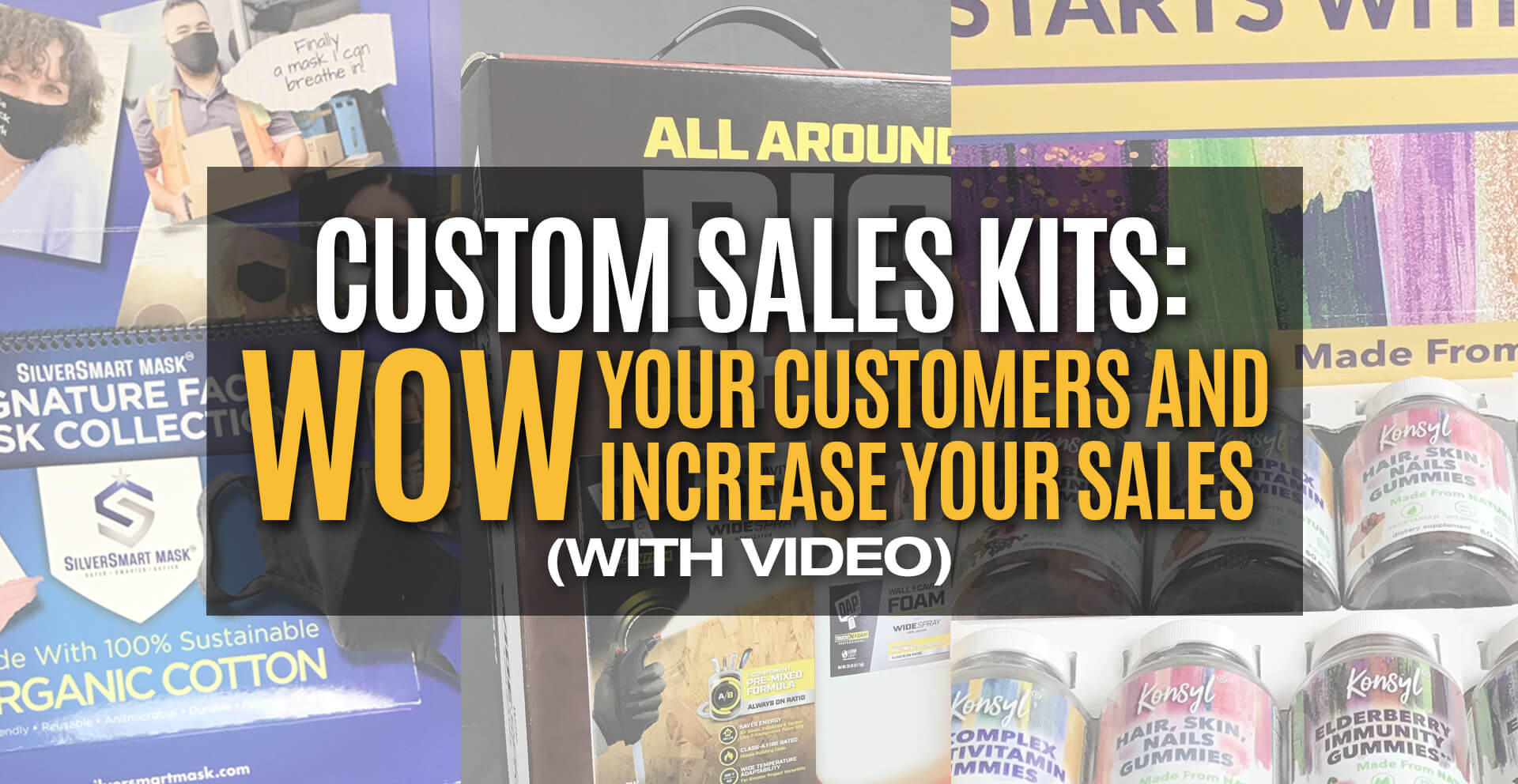 Every savvy business owner knows you have to stand out to succeed. Customized sales or marketing kits can do just that when launching new products or selling premium price products.
Sales kits are an excellent means of putting the uniqueness of your brand and company on display while showing the recipient that they are important.
But we all know it's a big investment and the kits need to have specific results… drive sales. Basically these are direct response tools and are only successful if they get a response, a sale, or create enough interest to make the customer pick up the phone.
Custom sales kits are essentially a condensed representation of what your business and products are all about – a kind of portfolio of your business' products and services.
Services provided by custom sales kit designers and manufacturers can assist you in telling the narrative of your brand precisely and uniquely to get the biggest impression.
Attractively designed sales kits increase your brand and product visibility by giving customers a tactile, sensory experience, involving them in the discovery of your message.
Presentation kits are great for both impressing new customers and functioning as a stand-alone product display tool for retail settings.
Let's look at these custom sales kits a little more closely to see how they can benefit your business, regardless of your niche or industry, and how to go about using them effectively.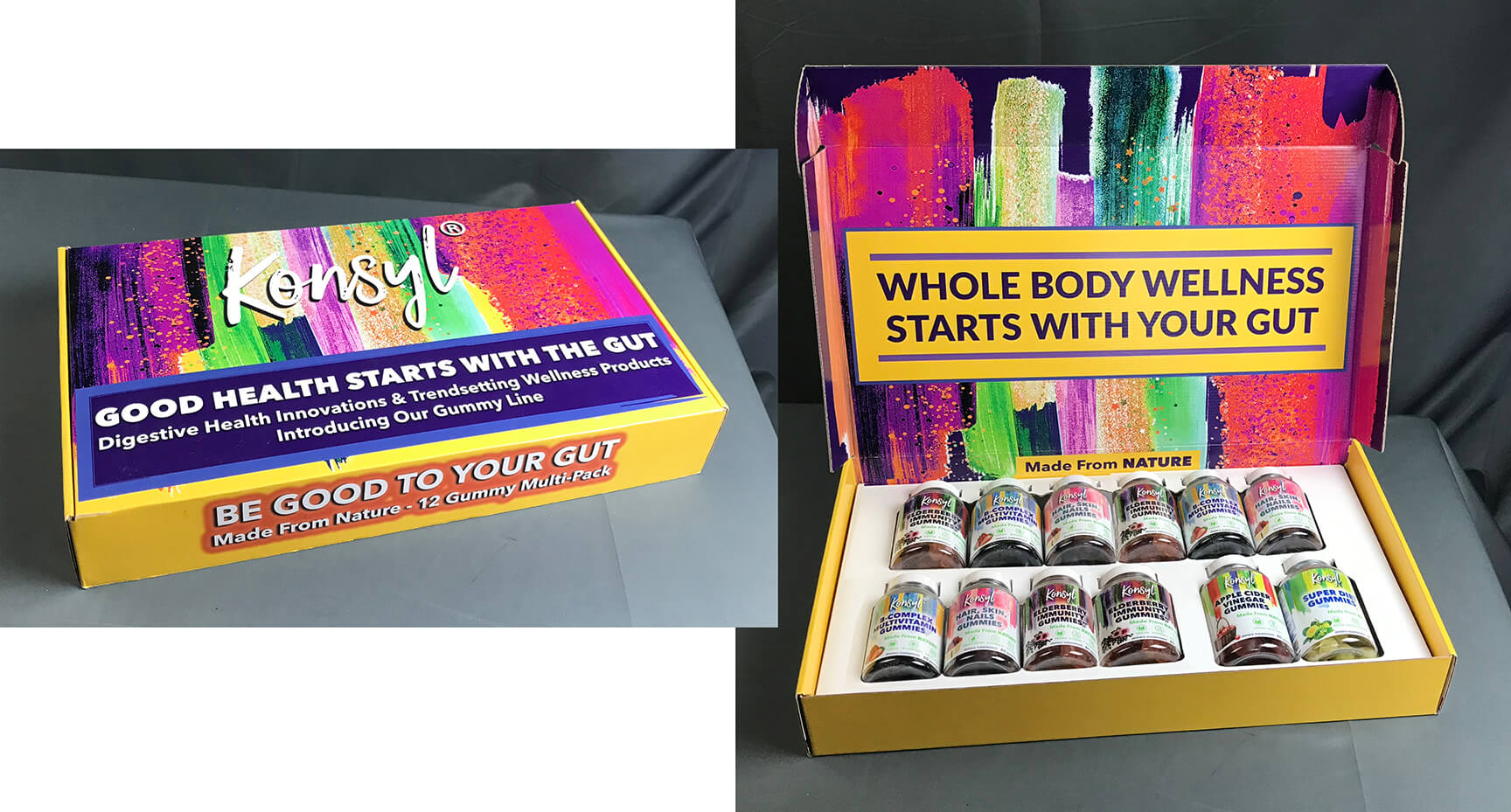 First Impressions Are Everything
While your products should undoubtedly be able to stand alone as top-quality merchandise, the first impressions that consumers have in competitive niches are critical. Using custom marketing kits as a packaging and marketing tool are essentially about grabbing the attention of your target audience and quickly convincing them to choose your products or service.
In branding, messaging needs to be focused on the primary buying audience, knowing their demographics and key purchasing triggers is a must. Keeping track of competitive environment, the political and economic impacts on sales, trends that can affect your customers decisions, maybe life changes that will affect their interests.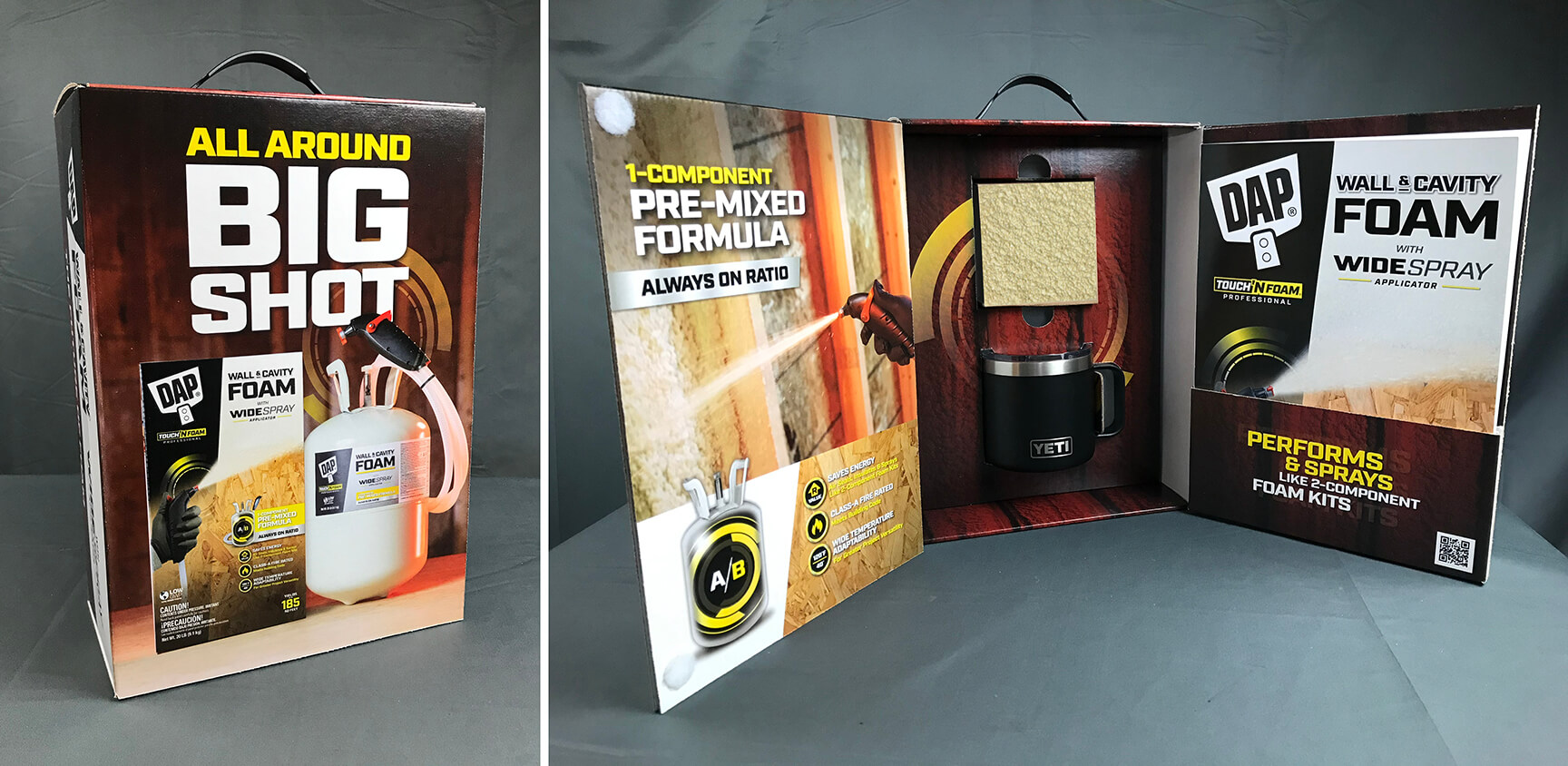 To have the best possible first impression with a custom sales kit, make sure to do some research on your target market and qualify what you think you know is still accurate. Don't let your target be too broad, focus on your primary audience, the one(s) that purchase 50% or more. Focusing on primary buyers will allow you to point out how your products and services provide the best solution to their problems.
This will then help you to hone in on the design, images, copy and materials to have in your custom sales kit. Think of what your target customer would want to see in a product and make it happen. Packaging companies that create custom marketing kits will certainly be able to assist formatting the designs to suit your needs.
What To Include In A Sales Kit?
Sales kits can incorporate any kind of samples and promotional materials that you and your marketing team believe will convey the message that converts the recipient to a hot lead or sale. This could include literature on your products, company history, sample products and more.
Be sure to include clear messages depicting the values of your brand and provide a complete list of products and services you offer that are of interest to that prospective client. Stay focused on walking customers through your product's benefits and highlight features that create the benefits.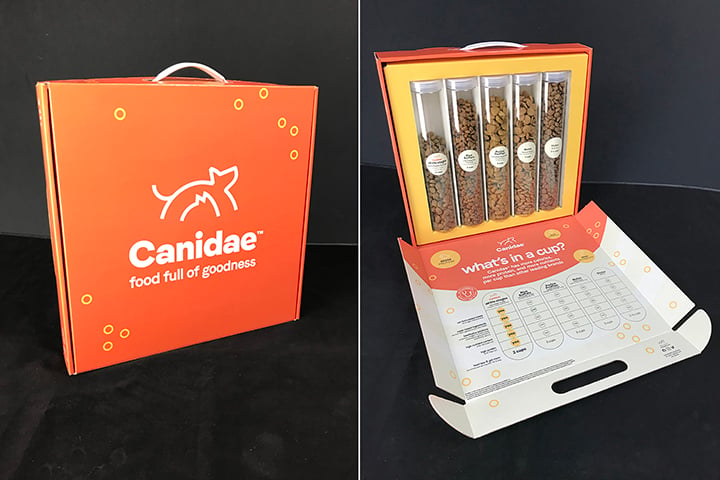 Consider what is important to "them". Don't fill it with bragging or information that is irrelevant to the solutions they need.
You may also want to consider catering individual sales kits for different recipients, depending on who those recipients are and how your business can help them. This goes back to defining your primary, secondary and fringe buyers. Targeting too wide an audience doesn't result in higher response rate, it dilutes your message, impact and response rates.
Differentiate Your Brand
One of the primary motivations for making your product distinct is to differentiate your brand from competitors. Custom kits provide a platform to show your audience the uniqueness of your brand especially when some simple strategies are followed.
It is also important to coordinate the overall message with your broader brand image. Unique packaging can magnify your brand image and improve the recognizability of all of your products.
Every effective marketing strategy is built around a compelling story. These stories should be built around the problems that your products solve. Everyone makes a purchasing decision based on a strong emotion. Business coaches tell you to look for pain points and determine what emotion you need to evoke for the response you want. Tap into your customer's emotions and create a brand engagement that has a lasting impression.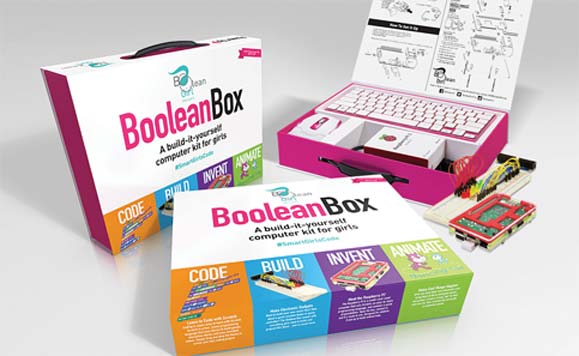 Establish Your Authority
Displaying your products should also be done in a way that inspires confidence and proves your expertise. Capturing your audience's attention is one factor, but demonstrating a thorough understanding of your customer's needs and how you can help them is sure to command their attention.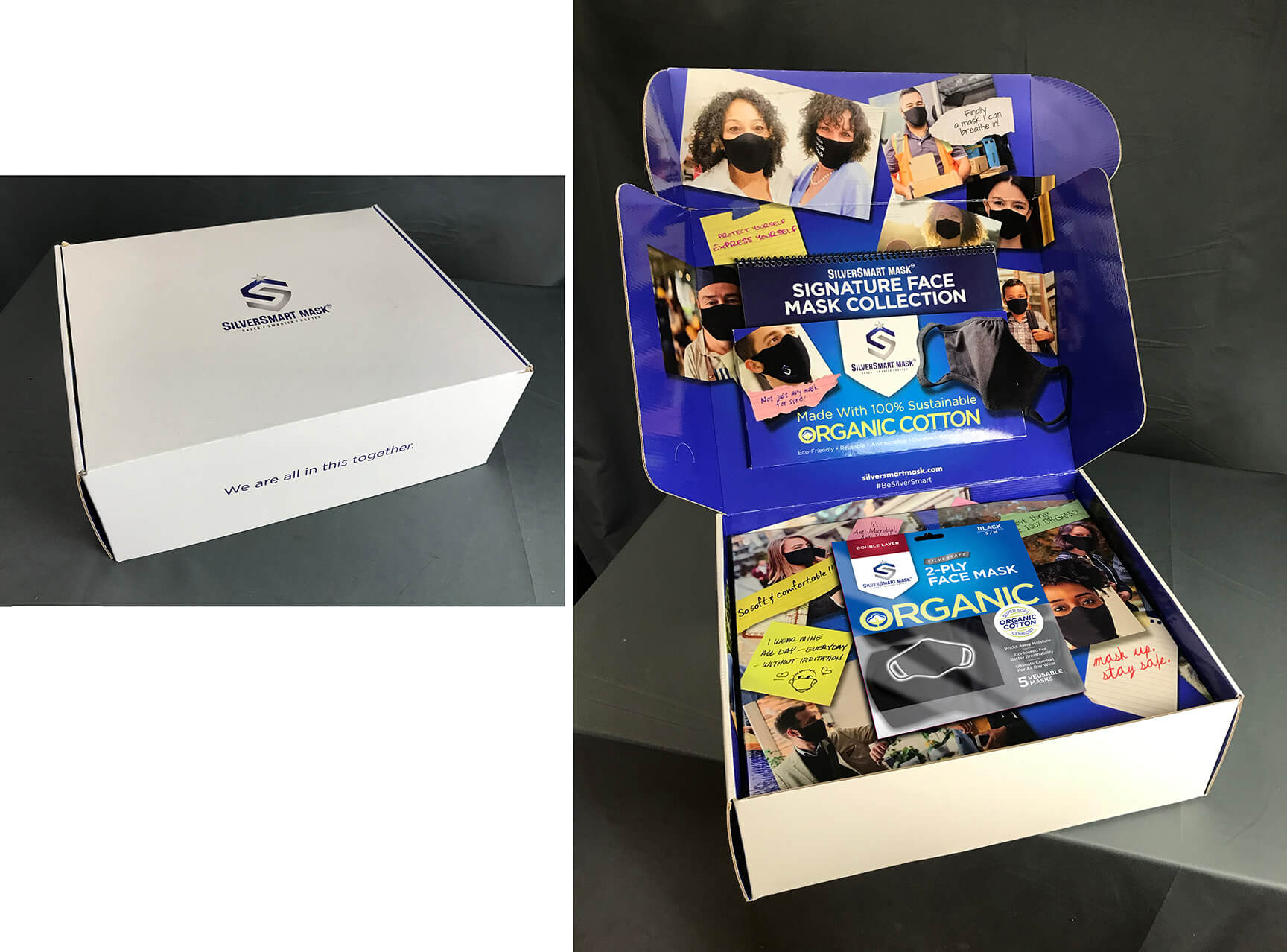 With your sales kits highlighting the uniqueness of your products and services in a tangible way, half of the sales job is already done!
The package design has ample space to convey your authority, expertise in the market. Brag about the unique, maybe patented features that provide benefits better than the competition. Case studies and testimonials (keep them simple and concise), influencer endorsements are all capable of raising the confidence in your customer.
Your sales team will appreciate having well-designed sales kits to use in presentations with potential customers. With your sales kits highlighting the uniqueness of your products and services in a tangible way, half of the sales job is already done! And, a well designed sales kit can stand alone without a person to present it.
Additionally, custom sales kits must compliment marketing goals. They must be visually appealing to help your product to remain memorable in the minds of your customers. Bottom line, the objective of investing in them is to boost sales.
Material Matters
There are many different package styles and materials that can be used to craft custom sales kits. They can be as simple as a large brochure or they can (more commonly) consist of a larger box that displays product samples. It can be a rigid box or be made from corrugate, use foil stamping, magnetic closures, and foam inserts.

The materials used to feature your products can also help boost your brand profile.
The materials used to feature your products can also help boost your brand profile. For example, if your brand values sustainability, the design should consider using recyclable materials in the construction and/or the recyclability of the kit.
Color has a dramatic impact on consumer decisions. Featuring you brand color is a must, but, it can be done by using other colors to pop the logo in the design. Considering the appropriate color choice for your custom sales kit can ensure that your efforts return the maximum results from your investment.
Keep Your Products Secure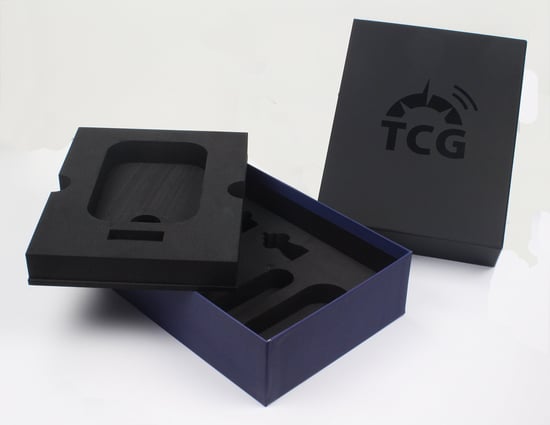 Sales kit with a custom foam insert
Custom sales kits can also provide physical protection for your products. While packaging style is important for marketing purposes, it naturally provides a means of keeping your products intact and secure. Sales kits can incorporate foam inserts to display products, secure them in place and protect them from damaged.
Custom sales kits can ensure that your products arrive to your customer as expected. Your clients will appreciate that the contents of the sales kit are just as compelling as the kit box itself.
Customers will also appreciate the reusability of these sales kits for storing your products (such as distilled spirits, for example). Well-constructed and sturdy sales kits will likely remain in your customers' homes for a while, as many people are hesitant to throw out a large, rigid box (which is perceived as valuable).
Some of our clients choose to have a sales kit that a customer can repurpose for personal needs. When they reuse it, it provides a secondary affect of promoting the brand by exposure to additional audiences.
Keep At It
While customized sales kits might seem like a one-time investment, it's important to keep them updated as both your product line and marketing strategy evolve. It would be cost-prohibitive to update of your sales kit frequently, though it is good to re-evaluate regularly. Good ideas for promotional materials or how to enhance your sales kit might come when you least expect it.
Effective kits, customized to your liking, can function as a type of elevator pitch for your business.
Effective kits, customized to your liking, can function as a type of elevator pitch for your business. Your products will be memorable and will stick out in the customers' minds. Make sure to include a "call to action" which encourages potential new customers to contact you and engage with your business.
An Effective Kit Will Boost Your Sales
It can be quite difficult to make a mark in any niche in our increasingly advertising-saturated environment. Making the investment into thoughtful and appealing packaging design can enhance value to your products and services, making the brand stand out from the crowd.
The whole idea behind custom sales kits is to increase sales with an added benefit of increasing brand recognition. Having something tangible for existing and potential clients to see, hold, and hear can leave a lasting impression. Involving them in the discovery amplifies the experience especially when the kit allows them to try the product out for themselves.