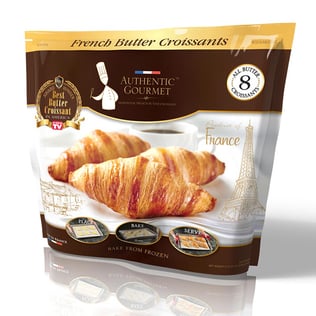 Making sure that your product looks great, sells well and stands out from the crowd on the supermarket shelves is crucial in today's competitive market.
Different types of packaging will work better for particular product types and packaging designs. However, one option that is taking the packaging world by storm due to its incredible versatility is the Flexible Stand Up Pouch.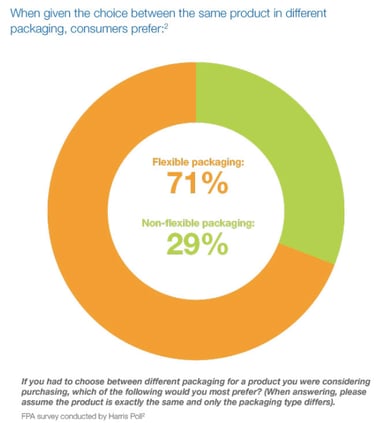 Flexible packaging is the second largest packaging segment in the United States right now, securing approximately 19% ($164 billion) of the packaging market.
In fact, 71% of customers would choose to purchase a product packaged in flexible packaging over the same product in a different type of packaging due to it how easy flexible stand up pouches are to store, to open, to reuse and, of course, to reseal, keeping the contents protected from the elements.
Browsing the supermarket aisles, you can clearly see the versatility that stand up pouches offer, as they are used for all sorts of different products from food packaging to household cleaning products, coffee, pet food and more.
Flexible stand up pouches can also help producers lower their costs while providing an excellent canvas to create a truly standout packaging design to generate more sales.
Let's take a closer look at just a few reasons that you should consider stand up pouches as the perfect package for your product.
Cost Effective Packaging
Compared with other types of packaging options, stand up pouches are much more cost-effective. Not only is printing your packaging design onto the pouches to create a unique look for your product cheaper but there are other financial benefits for your business too.
Flexible stand up pouches are cheaper to transport for the simple fact that they weigh less than other packaging materials such as glass, aluminum or heavy-duty cardboard.
Generally speaking, transport companies will charge by weight, so the lighter your materials are, the more money you will save and have to invest in new packaging design ideas, marketing strategies and other areas of your business.
Inexpensive To Customize
Stand up pouches are relatively cheap to customize, making them an excellent choice for producers looking for a high quality but low-cost bespoke packaging solution.
Standard sized pouches are typically very affordable to customize to your preferences.
And for producers who need custom stand up pouch sizes created, designed and printed, odd sized packaging can also be produced and printed cost-effectively.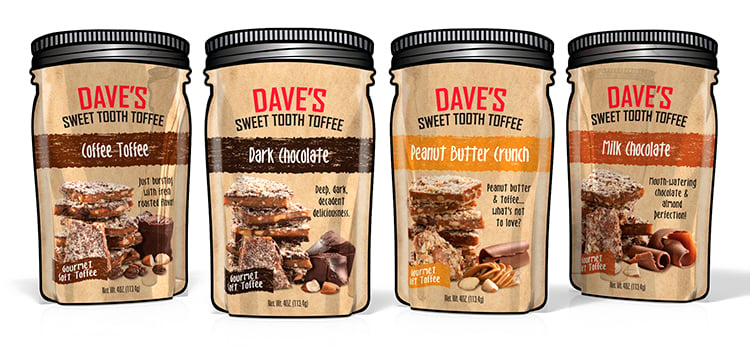 This level of affordability gives your packing designer and marketing team much more room to work with when coming up with a design.
Too often, the space limitations of more rigid packaging materials such as boxes and cans can hinder the creativity of your designer, as they just don't have as much space to work with.
However, with stand up pouches you can let your imagination run wild and come up with a design that is guaranteed to catch your customers' eye.
Different Materials Available
Depending on what kind of products you are selling, you may favor certain materials over others.
Nowadays, the range of materials available is varied and you can be sure that no matter what type of material you are looking for, you will be able to find something that will work for your packaging needs.
You can incorporate these materials into your overall packaging design to create a more cohesive design and product or brand image.

Some of the more popular materials available for stand up pouch packaging designs are:
Clear Film

Multi-layer Film (for freshness)

Kraft Material
For producers who are concerned with sustainability and putting forth a green company image, there will also be a bio-degradable film for stand up pouch packaging available soon.
With more and more consumers focused on the sustainability and the environment, it's important to take steps to do decrease the carbon footprint of your organization where you can.
The packaging materials you choose can be a great place to start and your customers will notice.
Choose From Different Stand Up Pouch Styles
Customer experience is crucial nowadays and small, thoughtful touches can help potential customers choose your product over your competitors.
Your packaging design, the information you provide your customer through the design and the feelings you can evoke through your design are all critical in making your product more appealing to potential customers.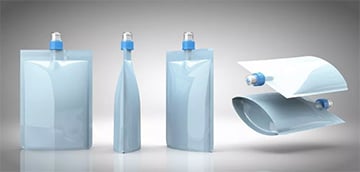 In addition to great packaging design, you can also opt for some different stand up pouch designs that might be more suitable for your product.
Stand up pouches with a spout can be great for liquid products for example.
You can use stand up bags with a window to let customers get a closer look at what's inside your packaging or you can opt for re-sealable zip lock closures to keep the contents fresh and/or from spilling out.
Low Minimum Order Quantity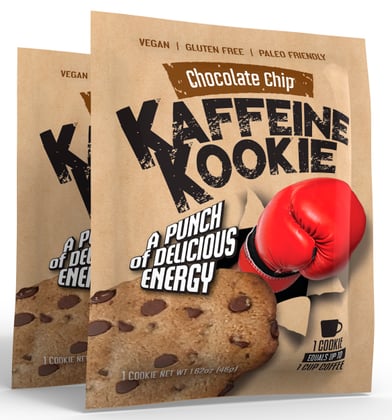 Whether you have a new product that you are launching, a seasonal addition to your line of products, a limited edition offering or you simply want to try out a new packaging design, stand up pouches are a great choice.
Because of how cost-effective they are to produce, you don't need to worry about committing a large chunk of your business finances to trying out something new. What's more, you don't have to order massive volume.
With a 1,000 pouch minimum order, you can test new products, new markets, have fun and be creative with your packaging design. And, if your new idea doesn't go according to plan, you won't be left with huge amounts of unusable packaging because of the low MOQ.
Because every printer is different, it's always advisable to double-check with your packaging design company regarding their specific MOQ policy.
Digitally Print Your Packaging Design
Both the brick and mortar and online retail space are becoming increasingly saturated and it's crucial that you make sure your product packaging pops.
Whether you choose bright, vivid graphics, loud print or a minimalist design, stand up pouches are a great way to make your design shine.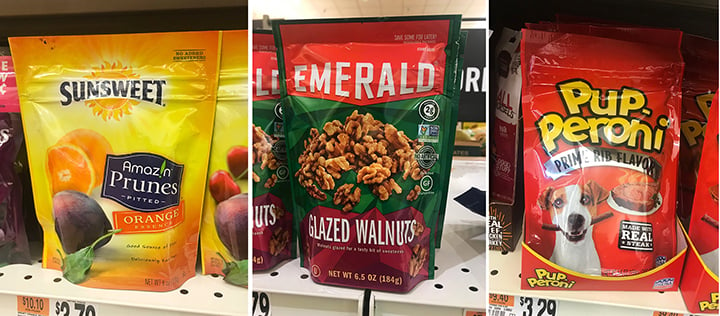 Digital printers can be used to print your packaging design onto your pouches and the colors look really come alive on these flexible pouches.
Having the ability to print digitally is a huge advantage to anyone looking to make their packaging design really stand out against the competition.
Quick Turnaround Times
Running a business can be stressful and business owners can very quickly find themselves falling behind schedule for any number of reasons.
Your product development team may have taken longer than expected to finalize the latest version of your product. Perhaps your supplier was late with your raw materials.
Or, maybe you and your team are just excited to get your new product to the shelves as quickly as possible.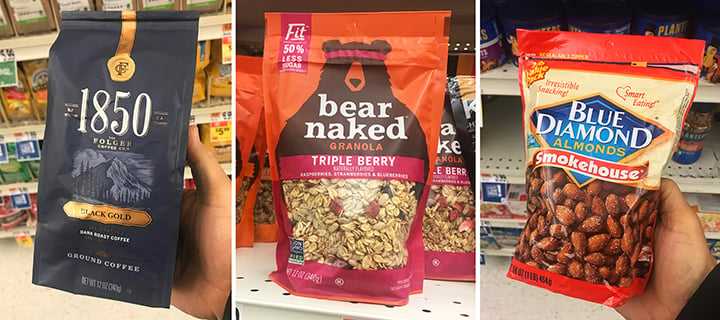 In a business environment that is becoming increasingly competitive, it's crucial that you can get different tasks accomplished quickly.
Using flexible stand up pouches for your next product packaging allows for quick turnaround times. In just 4-6 weeks, you can have your new packaging completed and ready to hit the shelves.
Stand up pouches can also be versioned in the same run for different products, different sized packaging and different packaging designs, which can speed up the process of printing different designs on your packaging.
You will, of course, need to have each of your packaging designs finalized but printing in this manner is possible and leads to faster turnaround times.
You Don't Need A Co-Packer
Whether you are a startup just finding your feet or you are an established operation testing out a new product or flavor of your product, you can forgo hiring a co-packer and carry out the heat-sealing process yourself.
However, generally speaking, this will only work with packaging lower quantities of goods.
To heat-seal your stand up pouches yourself, you will need a heat sealer and a clean space. Simply put the desired amount of product in the flexible pouch and heat seal the open end of the pouch.
On the other hand, if you have larger volumes of product to package, you may need the help of a co-packer to handle the packaging for you. Co-packers manufacture and package products on behalf of companies like yours.
They are skilled and experienced in their craft and often have access to specialized equipment that may be needed, depending on your product. If you feel that you need the services of a co-packer, visit this link for a comprehensive list of co-packers.
Highly Versatile
One of the main reasons that flexible stand up pouches have become such a popular packaging choice is due to their incredible versatility. They can be used to package a huge range of different products such as:

Snack Packaging

Coffee Packaging

Cleaning Product Packaging

Cannabis Packaging

Pet Product Packaging

Clothing Packaging

Virtually Any Packaging!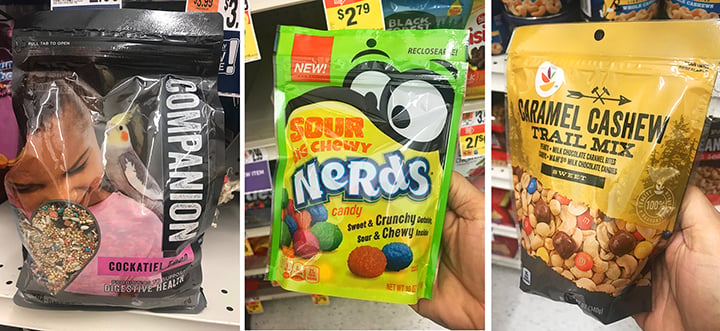 A stand up pouch is a great choice as you can use this packaging option across a wide and varied product range.
What's more, as well as providing a functional packaging option, you can be sure that your packaging design will pop, look amazing on the standup pouch and will help you to increase your sales in the process.
Why not consider adding effects such as, matte, gloss or metallic finishes to really take your packaging design to the next level.
In-Store Versatility
Having options when it comes to how to display your product to customers in store is vital in the retail world. While bottles, tins, boxes and other types of packaging can be somewhat limited in how they can be displayed, stand up pouches are much more adaptable.
You can stand them on their own in a display or on the shelf with ease and not have to worry about they being knocked over too easily. Alternatively, you can have your packaging peg hooked to allow it to be hung in the store in a key area.
This kind of flexibility means that you can be sure that your packaging design will be on display in a prolific area of the store. Other packaging options are limited to certain types of displays but stand up pouches have much more in-store versatility.
Increase Your Sales With Stand Up Pouches
Every business owner, ultimately, has the same goal and that is, quite simply, to generate a profit for the business. Because of how cost-effective flexible stand up pouches are and the incredible versatility they provide, this packaging option puts business owners on the right track to achieving this basic business goal.
So much so, that 55% of brand owners reported an increase in sales after choosing stand up pouches for their packaging needs.
Companies who want to lower their carbon footprint, have a packaging design that will really stand out from the crowd and support their organizational values will also appreciate the many advantages that flexible stand up pouches offer.
Consider choosing a stand up pouches for your next packaging project and take a big step in moving your company towards a more positive future.
What do you think about stand up pouches. Let me know using the form below....
Still need more info? Try these blog articles: