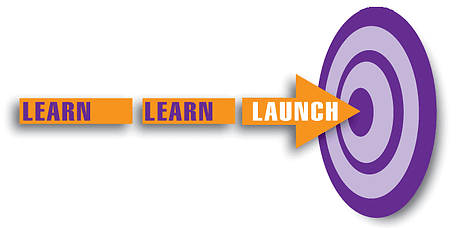 Before you think about manufacturing and retail package design, qualifying that there is interest in buying your product should first be tackled. Recently I attended a Meet Up event at DAP Headquarters. It was a fantastic presentation about product development. The title of the meeting was "Concept to Product". That title intrigued me to encourage 2 other associates to attend with me. For more than 20 years, I have worked with clients who develop and launch new products. I hoped for some unique insight from the client side that would be beneficial to my Entrepreneurial clients. I was not disappointed.
How do you know your product concept will succeed?
Four presenters talked about how they develop new products. It was an inside look at what it takes to create a product that makes it to the shelf. A dominant brand is not a guarantee that the product is going to sell. A great product doesn't mean it will be in demand. I have been brought in at concept stage of product development to help create messaging and product cosmetics. But not all the products I worked on made it to the shelf. Hearing first hand from experienced product developers at this meeting, it was clear that qualifying the marketability of a concept product is the most important first step in product development. And in some cases confirming product viability was not just done once, it was done repeatedly through the creation and prototype stages.
Brian Le Gette, founder of 180 and Zerochrome, gave some of the most useful advise, "Fail Fast, Fail Cheap" especially if it is in a business area you are new to. Talk to everyone you can, your contacts, industry experts, friends and family to determine whether the product has a chance on the shelf before investing a lot money. Even before you create a prototype. He told a story of how he did low cost research without having more than a sketch and an idea. He had just enough to describe the product without giving away the complete concept. You don't have to know anyone in the field. Go where you can find them. Go to tradeshows, talk on the phone, and talk to potential end users to find out whether you should invest time and money. The biggest part of the investment is time.
The experts at the Meet Up event all agreed, some of the best products don't make it to the shelf. And the convergence of influences guarantees that multiple people or companies are working on similar concepts. First to market has never been as important as it is now because of the speed at which innovation is happening. Technology has made creating new products easier for more but not less expensive. This same technology gives you an easy way to research whether your product idea already exists by searching the Internet using terms your end user would use to find your product concept. And before going too far, you should research whether there is a patent or patent pending for a your idea or one similar enough to affect your development plans.
Heather Sarkissian of DAP was the last to present. She outlined how you can discover innovative ideas that can lead to a new product or a product category innovation. At DAP, observing end users interacting and using the product is critical to uncovering unexpected opportunities.
Through observation you see through the users eyes, see behaviors and have opportunity to discover pain. Look for habits of adapting behavior to the product. Ask why they use product in the particular way you see them using it. Compare user behavior to other users. Are they compensating to achieve a result? Interview but don't ask them to suggest solutions.
There are companies you can hire that specialize in this type of research. The advantage is you access their experience and resources. If you are not experienced in conducting research and interviews, consider the product development costs and weigh the advantage of using research experts. Hiring a company provides the opportunity to learn how it is done. It is not unheard of that companies and entrepreneurs do their own research. There are product companies that conduct their research, testing and interviews themselves rather than using an independent company. It is a business decision you have to make. This video make help you decide whether to hire or do it yourself.
Here are two links to videos that can help you understand how to interview people to get customer insight to craft messages to the people you are going to marketing to.
Getting People to Talk: An Ethnography & Interviewing Primer is at this link http://vimeo.com/1269848

Google Ventures "Startup Lab workshop: User Research, Quick 'n' Dirty" is another resource that is helpful in describing how to do quick valuable research. https://www.youtube.com/watch?v=WpzmOH0hrEM
Remember the best advise if you have a product idea - research before investing a lot into our product. The information you gather will help you refine your product and create your marketing message.