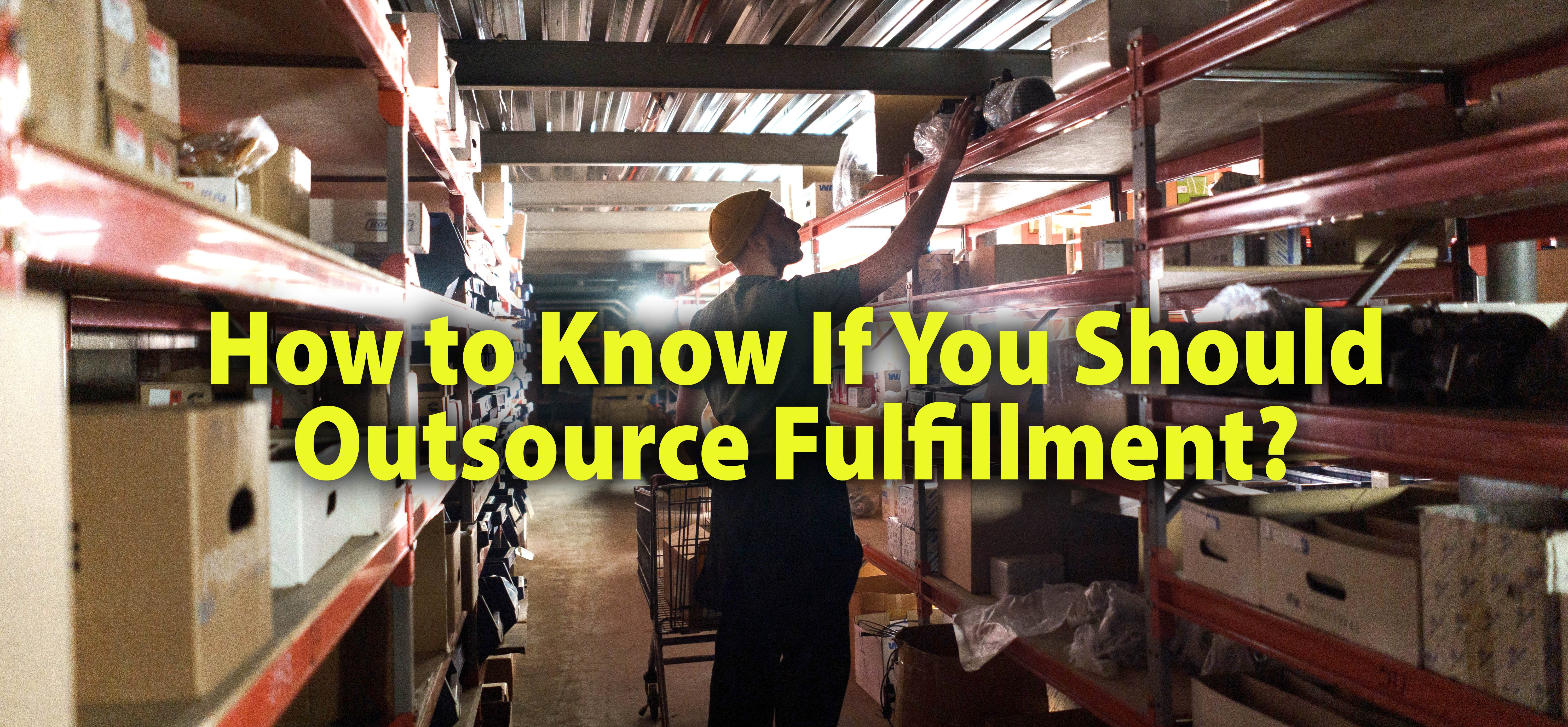 Congratulations, you've made it. You kept your company afloat, are moving out of the garage, and orders are getting larger every week. That's an amazing feat, but it also comes with a lot of extra stress and pressure. If you're unsure how to support this growth and keep taking operations to the next level because of inventory and order issues, it might be time to look at an outsourced fulfillment partner like a 3PL.
Making that decision can be tricky. There's a lot to worry about, and you're giving up some control over your business. However, this move can also save you time, money, and hair if you make it at the right time. So, based on our experience with growing brands and well-established companies, here are seven of the biggest signs that it might be time to make that switch.
1) Inventory woes get in the way of sales and development
The biggest sign suggesting you want to outsource fulfillment is that inventory management and filling orders are pulling your team away from generating sales. Most entrepreneurs get started because they've got a great product idea or a unique way to position existing products. If that's what you love, look at how much time orders and inventory take up and ask if you'd rather focus on the revenue aspect of your business.
For many owners and leaders, it takes moments of self-reflection to realize that you can give up control over aspects of your business you don't enjoy. Let the experts take over these annoyances, so your business stays positive in your mind.
2) Orders are delayed more and more
Following up concerns with fulfillment causing you headaches is when it gives those to your customers. One of the biggest frustrations your customers can have is when orders are delayed or backordered because of inventory issues. You might be unable to forecast inventory needs, or you don't have the space and people to pack and ship as fast as you need.
Look for operational issues that create bottlenecks and slow down your operations. When you hit these and can't overcome them, it's likely time to consider outsourcing. You may not think some delays are harming your business but look through reviews. You're at risk when customers talk more about shipping delays than products.
3) Mistakes are costing you money
The second order issue you want to monitor is returns and replacements. Ask yourself how much these are costing you in immediate profit margin and how much they decrease customer lifetime value. If loyal customers keep getting the wrong shipment and then have to deal with the hassle of returning items, they may leave to find another brand.
When you make an error, you're hit in multiple ways. You've paid to ship that product to a customer. But now, you need to either replace it or offer a refund. Initial shipping costs are now a pure expense with no offset. If you refund the goods, then you're either likely paying to have items return-shipped to you, or you're eating the cost of the product and letting the customer keep it. Replacements have their own shipping costs. All of this erodes margins quickly.
The industry average for warehouse mistakes is between 2% and 3% of orders, and businesses doing their own fulfillment can easily have a roughly 8% error rate. If you're higher than that, this could be money you're losing unnecessarily. And, if you find a partner that promises a 0% error rate or offsets the expense of errors, you're in an even better position.
4) Stuff keeps breaking
Goods often break in transit when they're not packaged correctly. This can be using the wrong infill or not ensuring a box is strong enough for what's inside. Even before an order arrives, many warehouses have products break during the receiving and storage process. Something falling off a shelf costs money while breaking in transit also increases your replacement costs.
Reliable 3PLs not only know how to package goods like yours, but they test and practice to ensure each item is as safe as can be. They're also experts in storage, handling, and loading trucks. Having trained professionals at each step reduces the likelihood of an error and can help protect your margins.
The thing about a warehouse is that you shouldn't experience shrinkage like this. There are safety practices for people and products that can eliminate almost all damage. Security systems that prevent "accidental" breaking that causes units to walk off the lot.
5) You just looked at the cost of a warehouse lease
Warehouse costs in the U.S. are unpredictable right now. Costs for space continue to rise, and vacancy is staying low. Plus, construction is slowing down in the warehouse sector. That means you could be paying a significant amount for the space you need. Roughly $8 per square foot means the average warehouse in the U.S., approximately 25,000 square feet, would run you $200,000 each year. And that cost is before utilities, insurance, racking, equipment, and teams.
If you need more space and are ready to expand, but the cost of stepping up into your own warehouse is too prohibitive, partnering with a 3PL can give you the extra space typically at a substantial cost reduction. Instead of that high flat cost for space that you might not even fill up yet, you can budget easily and pay for what you use with a partner.
Taking the plunge
It can be hard to figure out when the best time to outsource your inventory management to a 3PL. It all depends on your business. If you are losing time and money trying to maintain warehouse operations, it's probably time. The same is true when the garage is too small to operate safely and still grow your business.
If you do decide to outsource fulfillment, speak with many different 3PLs and partners. Use resources like 3PL RFP templates that help you evaluate multiple partners fairly and accurately. Get responses specific to your products and business so you can trust your partner.
Good fulfillment is worth taking time and establishing a long-lasting relationship designed to grow while minimizing risks and costs.
Growing your business requires great partners to create your brand. We can take your look from high school to mayture and professional. Call tosee how easy it is to work with someone who cares.