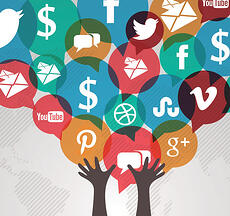 Nearly every business includes social media in their marketing mix. Larger companies have the man power or budgets to allocate to their SMC. As a business owner your goal is to find where your prospects are online so you can be in front of them. A social media consultant can assist with targeting your efforts to get the most from your SMC investment. Every ones customers are active on some social platform even if their age demographic is 55-64. That age group is the fastest growing segment on Twitter.
Managing multiple channels can take a lot of time.
Here are some tools to increase social media productivity.
Topsy

Here's a tool that has a great price — FREE. If you are focused on Twitter this tool helps you make sense of billion tweets on Twitter. Topsy has a Twitter analytics tool to search, monitor and analyze tweets. Find tweets,photos, videos or shares by a specific person. Topsy provides a wealth of data so you know what's trending.

You can find tweets, links, photos, videos or shares by a person or on a specific topic. This is a wealth of data if you want to find out what's trending and being shared. But most importantly, Topsy can also help you with your blogger outreach campaign.

Price: Free.

Monitor in real-time, listen, react quickly, collaborate and analyze your online presence with Mention. Monitor Facebook, News, blogs, videos, Twitter, images and web in real-time. Looking for an alternative to Google Alerts? Check Mention which has been reported to deliver more alerts of social mentions than Google Alerts is able to.



Like Rignite, you can work in teams on Mention. But, Mention's best feature is the reporting feature. Track your Twitter name and exclude your own Tweets for deeper data.

Price: Free 14-day trial. Basic plan free for one user, one alert and 250 mentions/mo. Paid plans available too.
Rignite
Rignite has a full-blown social media dashboard that lets you control and monitor your social media activities in one place. You can monitor Facebook, Twitter, YouTube, and others , chat and collaborate with your social team. A unique feature is the ability to schedule profile groups to schedule multiple posts for different platforms. Rignite profile can be connected with Feedly to find content, curate and post it. But the greatest feature is the campaigns feature so you can set up goal oriented work flows. You are able to see what is working with results aggregated form all related posts.

Price: Free trial for 14 days. Paid plans start from $28/mo per user.

Compare tools to find the one that fits your budget

A fe

w more tools to compare are LikeAlyzer, Twtrland and Swayy. Twtrland lets you find new people, monitor your activity and your popularity. LikeAlyzer is a tool focused only on Facebook. It assigns a unique score to pages and reports let you know how you are doing compared to competitors. And finally, Swayy helps you find the best content on the web so you can share it with followers, saving time on curation.




Check out these tools and find which will help you be more productive in executing your social media campaign and have the reports to show you what works and what to improve. Find the one that fits you. Then your next task is writing enough content to make the most of your social media program. Check out this article for some helpful advise: How do you write enough social media content for social marketing?
If you found this article useful please share on your social channels.
Hungry for more information? Need advise to choose or start your efforts? Check out this ebook.