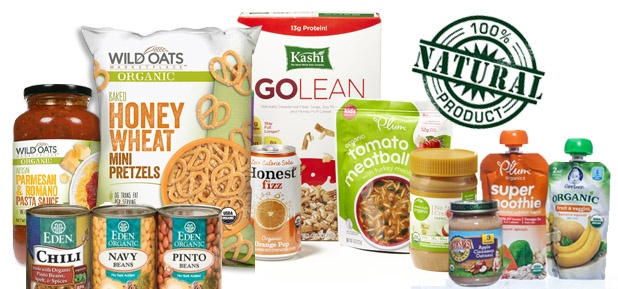 As health issues increase organic solutions have increased. There has been a big growth spurt in gluten free products. Organic baby products led the way in gaining acceptance in grocery stores from consumers. Organic meats and foods for adults have grown at a slower pace. Setting organic products apart from the standard fare requires your graphics on your product packaging look different from traditional foods. There is a style that has surfaced that consumers can look for to identify an organic product in a food store. They typically have a lot of white and show a picture of raw food. Brand name includes "organic" call out and the name could remind one of simple foods like "Wild Oats" and "Honest".
Branding Sets Organic Options Apart From Regular Offerings

Having a "style" of branding for a break out product set is first level differentiation. The style is evident in this photo of organic products found in national stores.Plum Organic, which was bought by Campbell's because of the opportunity Campbell's saw in the fast growing baby food category. Plum Organic recently launch a baby formula having taken advantage of the resources available from their new parent company. Ben Mand, Senior VP of Marketing, interviewed by Brandchannel, said "When you look in the baby food category and snacks, the penetration of organic is really strong. But when you look a organic formula, it's actually small."Being organic is a primary branddifferentiator when considered in the context of a grocery store. Then you have to narrow your creative focus and concentrate of thedifferentiators within the organic competition. Packaging design is not a simple matter of following a formula or you'll blend into the offerings of the dominant provider.In the actions of drilling down into brand development for organic, it is necessary to fine tune a visual impression that is unique on the shelf and online. The visual will become tied to the brand reputation.
Read more:Branding Tips: Building an Effective Brand Identity for Your Business