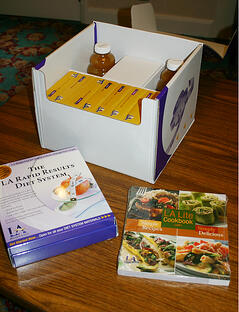 This packaging design project found us making a better presentation out of multiple items that made up a weight loss product. The objective was to give value to this high priced plan. Not just have a box of 'stuff' arrive on your doorstep after sign up. But to get an organized package of items that get you started on your way to slimming. Product packing placement and shipping survivability were also factors to consider.
Two final containers were needed! One to hold the initial system of multiple brochures, meal plan pads and a thick portion plate. The other to hold the presentation box and many diet food items. This box also had to hold different configurations of product for up sells when ordered and packed! Many options to consider but we pulled it off. There was even a shipper box to contain it all AND it was completed over the holidays in time for a late December kickoff! Whew....
Bring us your next project. We not only design for maximum visual impact, we also design for ease of use, product presentation and value enhancement!