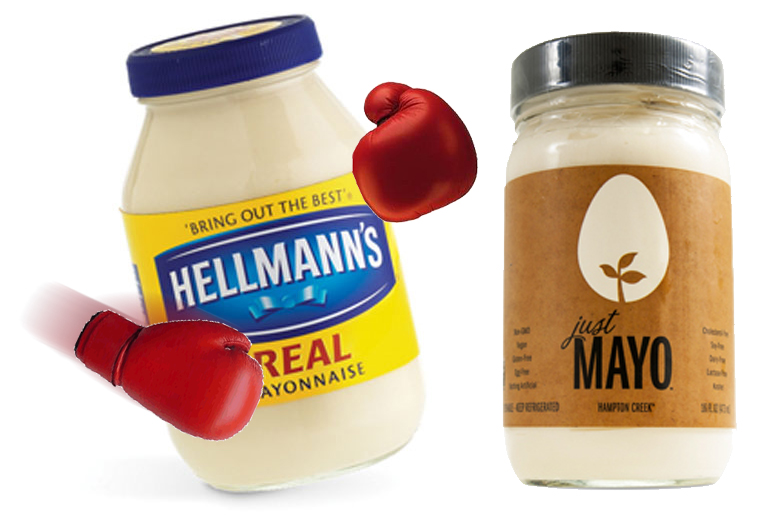 A company's brand is everything. From product packaging design to logos to the words used, a company's brand is, to use a cliche, its promise. That's why when other company's threaten that brand, business owners are so willing to vehemently fight for it. You need only look at the ongoing battle between media giant Disney and musician Deadmau5 to see just how ugly things can get when a corporation feels its brand is being threatened.

Another new lawsuit between a very large company and a smaller competitor is taking shape, as Unilever, the corporation behind Hellmann's Mayonnaise, wages a legal war against Just Mayo. Just Mayo, a plant-based mayonnaise substitute from food start-up Hampton Creek, Unilever argues, is using the mayonnaise name to sell a fraudulent product, and therefore, is ruining the classic spread for everyone.

2014 is the Year of Mayonnaise
The new litigation comes at an interesting time. A new study compiled using data from Euromonitor shows that mayonnaise is the most popular condiment in the United States. In fact, Americans spend upwards of $2 billion annually on the egg-based emulsion. Unilever's attempt to cut others out of the mayo game when its Hellmann's products stand to gain the most is just good business, even if the litigation is a tad frivolous.

Is Litigation a Smart Move for Branding Your Company?
The importance of protecting your brand is something taught in "How to Brand a Business 101." In that same class on how to brand a business, they also teach you that filing these sorts of lawsuits can quickly backfire. This is the situation in which Unilever now finds itself.

According to a report from the foodie news site 'Grub Street', sales of Just Mayo have skyrocketed since Unilever's lawsuit went public. On the one hand, the lawsuit effectively brought Just Mayo more free press than it could ever hope for. On the other, Unilever has shown itself to be a corporate bully. Another thing they teach you in that class on how to brand a business is how consumer sentiment can quickly change, especially in the Information Age.

What's the Takeaway?
It's important to know how to brand a business and how to protect that brand. What Unilever v. Hampton Creek shows is that it's also important to know when your actions could actually harm that brand you've worked so hard to build. Unilever's Hellmann's mayo controls 45% of the U.S. mayonnaise market. Their egg-based products likely don't appeal to the vegans and vegetarians that Just Mayo is going for. In other words, Unilever's lawsuit is likely pointless, but it serves as a warning for others out there: acting through greed is not a good way to brand any company.

What do you think of Unilever's lawsuit against Just Mayo? Does it change your opinion of the corporation? Tell us why or why not in the comments below.