Have you thought about why a shopper buys from you or leaves without purchasing?
As shoppers, ourselves, we ask friends about their purchases and satisfaction. We use coupons, look for deals and, for large ticket items, we research ratings. Our shopping habits are not unique. But which are the most influential in delivering sales so we can build our business?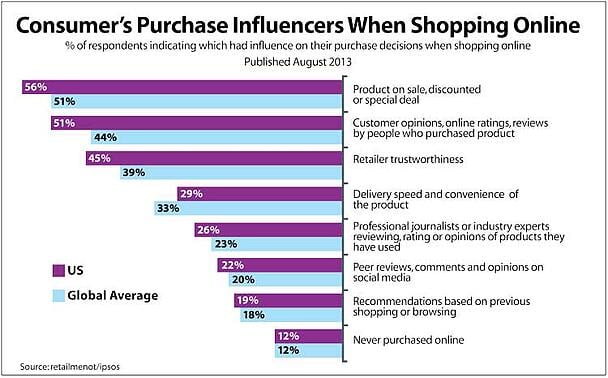 Regardless of sale price and coupons, ease of shopping on your website has to be your first priority. Slow loading sites, poor navigation, too many clicks to find the product will make shoppers leave very quickly. Assuming that you have a fast loading well designed shopping site we can focus on other influencers.
Coupon site RetailMeNot and IPSOS conducted a study to find out the order of shopping influence. The highest ranking influencer in the study having a sale or deal. 56% of the respondents say the deal was the biggest reason they would buy.
If you have the best deal or sale price and aren't getting the level of sales that you should. where do you come up in a search?
The second most effective sales influencer is knowing what other buyers say about the product. 51% f respondents said someone else's opinion was enough to base their decision to buy or not.
What else sways buying decisions?
Trustworthiness, independent reviews, delivery and customer service are other factors influencing purchasing decisions. Surprisingly, social media influenced only registered slightly more than 20%. This shows that people trust onsite reviews over their social network.
Considering the results of the survey here is a checklist to make sure you are taking advantage of all the opportunities to influence.
Post the deals, coupons, and special prices on one page on your site so your customers find all they want on your site
Ask your customers to provide reviews and rating of your product and experience with your company
Work to improve your online reputation: increase website security against threats, add video testimonials
Make delivery as easy and efficient as possible. Surprise your customers with responsiveness and estimate delivery date
Consider adding technology that provides recommendations to customers while they shop your site like Amazon (people who looked at this also looked at this and bought this).
Google analytics provides information about visitor behavior that will idetify which pages could be improved. Use all the information you can gather to constantly innovate and improve your website experience.