Hi, I'm Don Keller of Catalpa Packaging and Display. Most of our customers have a product, or they're in charge of marketing that product. And one way to market your product and get it in front of your customers is with a store display. Either a countertop, an aisle display, or floor display.
Today, I'm going to talk about our most commonly asked questions about our digitally printed, point of purchase displays. So the first question I'm asked is, How much is this going to cost? That's everybody's first question.
I'll answer that, but first, let's go over some other questions and answers that are needed before I can produce an estimate.
What Type Of Display Is Best For You?
What's best for you? What type of display is going to work for you? Most of our customers come to us with a specific need. They know they need either a counter display or a floor display, and most want lower quantities. That is, they want 100, maybe 200 displays, and a lot of them haven't created a display before.
They could be going to a trade show, and they need a couple to display at the show. They sell their product at the trade show and offer a free display if the customer buys a set amount of products.
That's one way some people do that, others are they've got numerous stores that they're going to do a test in. So they might have a new product, they want to make sure it's in front of people, so they order floor displays.
Floor displays, of course, are very noticeable in the store, are these products selling through? So that's another use of how a floor display, or some kind of display is going to work for a customer selling products.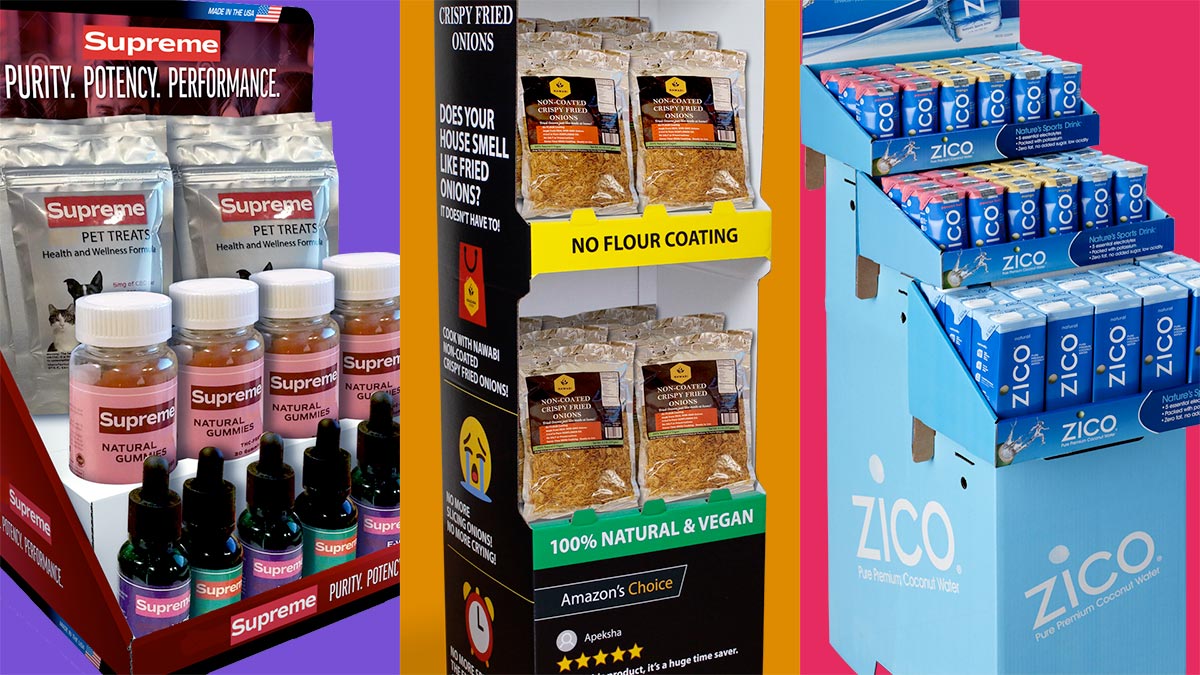 How Many Pieces Fit On A Display?
The first thing that we need to know about a display is how many pieces need to fit on this display. Are you going to put a dozen? Are you going to put two or three or maybe even four dozen?
There's a lot of depends in there. But the next question follow up with is how big is your product? So the size of your product obviously has a lot to do with how many can fit in a display.
Depending on the stores you're going into, you might want to check with that store to see what kind of specifications they have.
Yes, you can make a giant display, but will a store put your giant display in their aisle? Most likely not.
We keep most of our displays within the 14, 16, 18-inch width of a floor space, you don't want to really get too much higher than 60 inches; some are even lower than that.
Depending on the stores you're going into, you might want to check with that store to see what kind of specifications they have. And a lot of them do have specifications.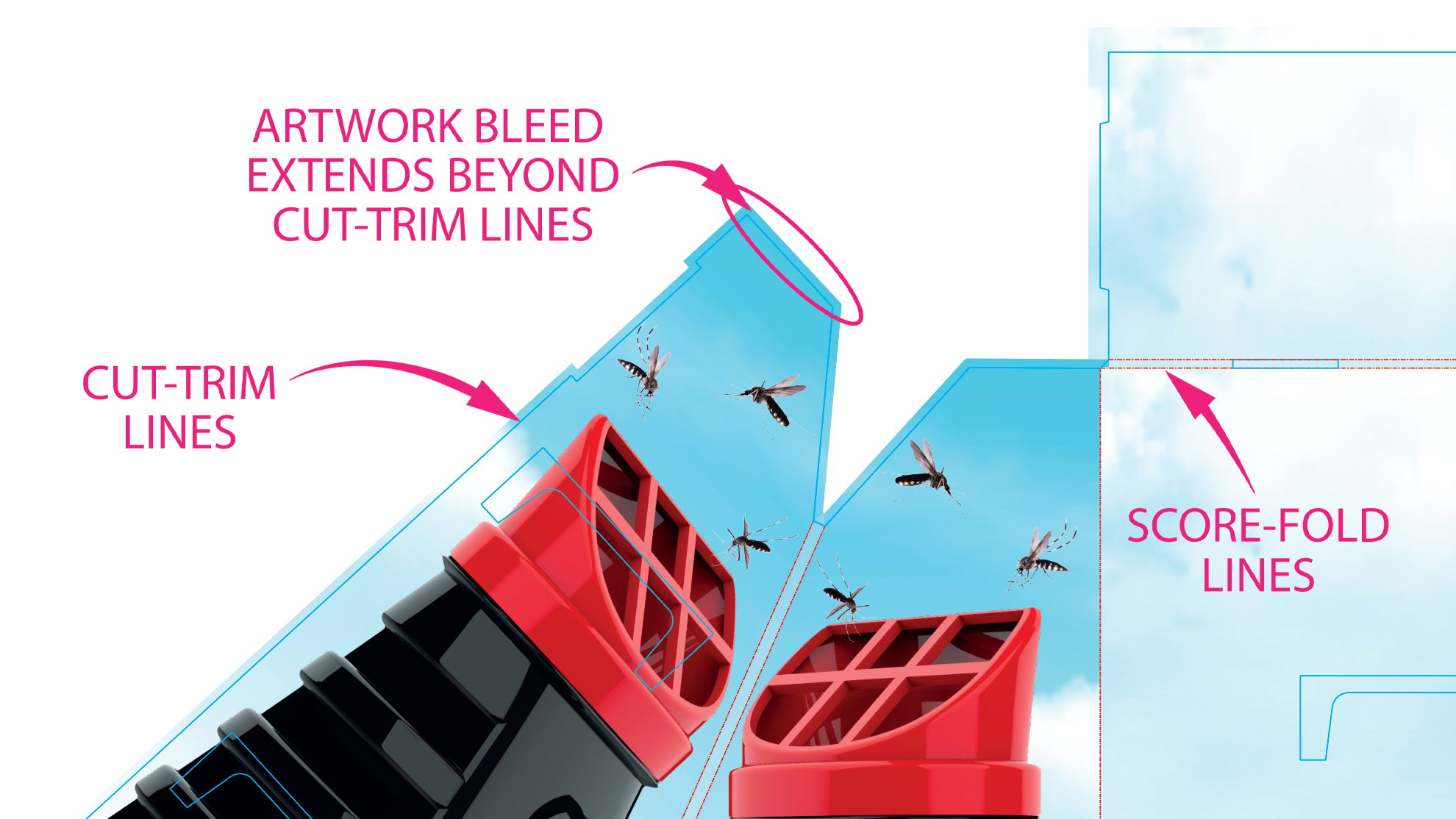 Do You Have A Dieline?
Do you have a die line? for your display? Well, if you do, great. Most customers don't unless they printed a display before. So if you have one, send it over, much easier to produce your estimate when we have that.
A lot of times, though, people don't have it, so we're creating a custom size die line for them so that we can estimate your display. So we'd like to have your product, but if we don't, we can deal with the measurements only, but having the actual product, that gives us the weight of the product, which sometimes can be a factor.
If you were to take one of these displays apart back here and laid it out flat, and you drew an outline around all the different pieces there, the folds and the cuts and where the artwork's going to go, that's a die line. It's all laid out flat, and that's what we estimate from.
Now that we have your product dimensions, we know how many products you want on that display, and we know how many displays are needed, and then we've created that die line for you.
Now we can produce that estimate. Now for the sake of this video, let's say that you've received the estimate, and you've approved it, fantastic!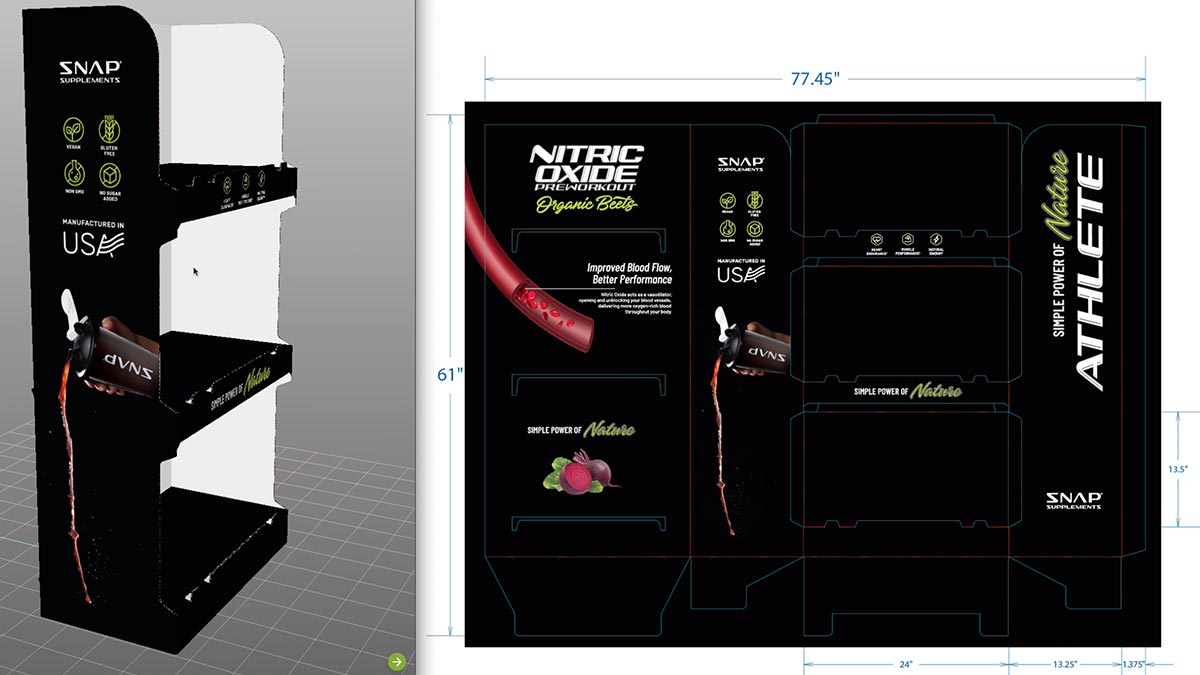 Do You Have The Artwork For Your Display?
So we're creating your display now, and the first thing we need is the artwork. Who's creating it? Are you supplying it? Well, if you are be aware that we create our die lines in Adobe Illustrator.
We're going to send that to you as vector artwork, and we need you to produce that artwork on top of that dieline in Adobe Illustrator. That means when you give us the artwork, we would like to have it CMYK (C- Cyan, M-Magenta, Y-Yellow, K-Black), and if you're familiar with art, you'll know what that means.
We want all the type outlined, meaning we don't want actual typefaces; we want it vectorized. We're going to need bleeds on that artwork. You know what a bleed is? I hope you do. We're going to need a little extra color.
Whatever goes over the edge, we're going to need a bleed on that. And we need all of your illustrations or photos or whatever it is that you're using as an image, to be 150 dpi at the size that it prints at.
Sometimes, these displays can be pretty big. So if you've got a big image that you want on there, we want it 150 dpi at this size. So next off, we're going to create a one-off sample. And with that, we check the fit we make sure that display is fitting correctly.
All the folds are working the way that we expected them to work. We're going to check the color of the artwork either we produced, or you produced.
We're going to make sure that it's printing correctly, and then we're going to send that sample to you for approval. So at that time, you can then inspect the artwork and the print quality and the fit for yourself and approve it.
Now that you have a sample, I want you to look at the quality of that sample; it should look pretty darn good. Our digital printing is printed at 1000 dpi, that is pretty tight for digital printing on corrugated stock.
When you get that, you will see that the color is good, it's rich, it's smooth, it doesn't, it's not wavy. You're not getting some light spots and dark spots; you're getting good solid color throughout.
You're getting good tight registration on your pictures, and your type looks fantastic. It's going to be just as the artwork looks.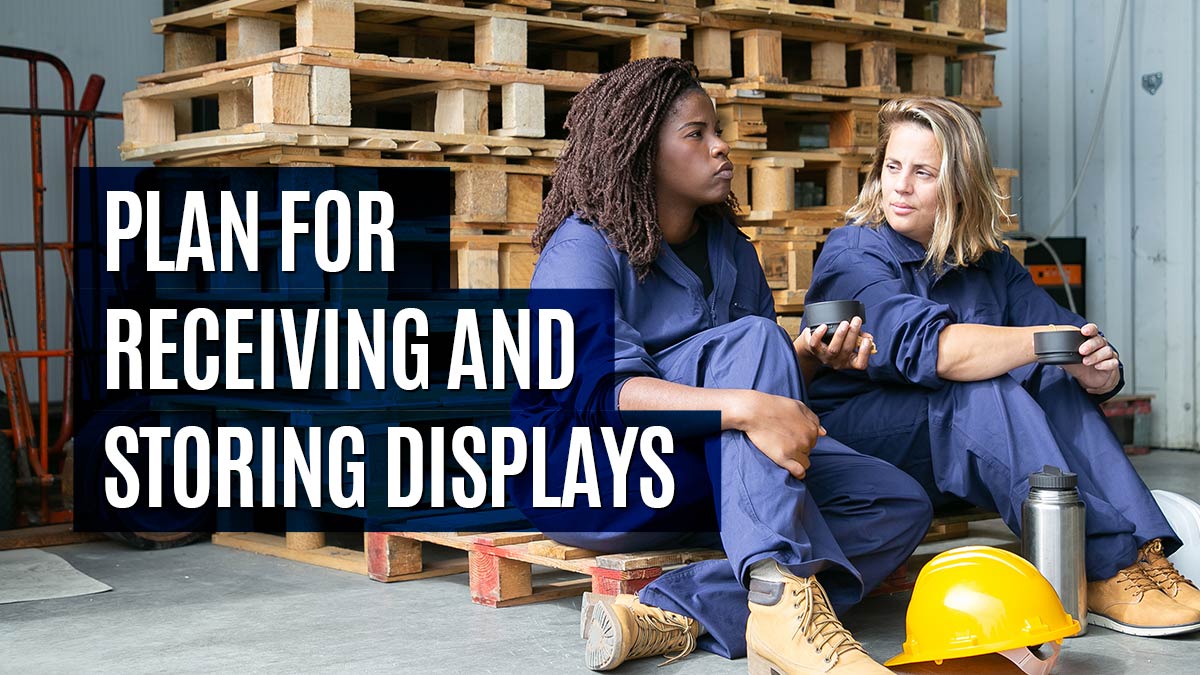 Shipping Your Corrugate POP Displays
Shipping, let's talk shipping for a minute. Many people forget this, this product is large number one, and it is shipped flat. And what do I mean by that? Is that when it's printed, it's dye-cut, it's folded, it's glued if necessary. And it is put down flat on a pallet, and it shipped that way.
When you get, you can imagine if you've got 50 to 100 sheets of corrugate, and you've got two sides that when it's folded down, two sides on top of each other. You could; that doubles the thickness of that corrugate.
You can imagine you've got quite a bit of corrugate there, and it's getting to be quite a large size. But it's shipped on a pallet, so that means it's going to come by truck to you, and you'll need to deal with a pallet when it arrives.
Maybe you have a shipping dock, maybe not, and you'll have to hand offload it. It's not horrible, but I just wanted you to be aware that when we ship, we ship by pallet.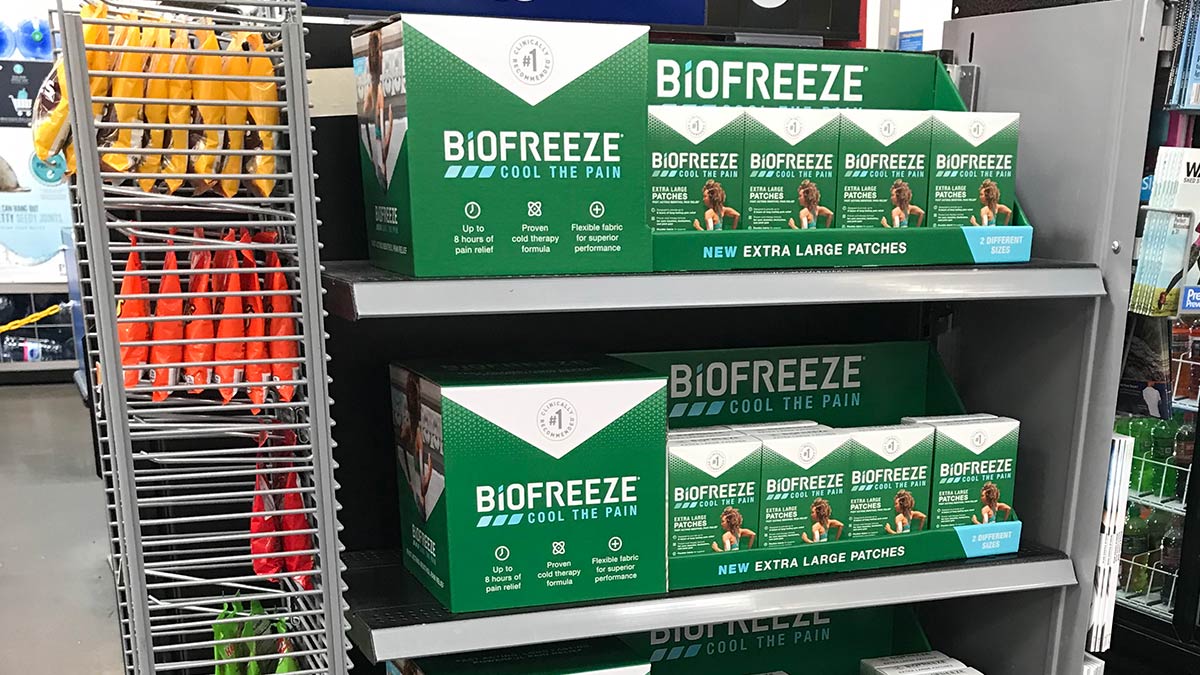 What We Don't Do
There are a couple of things that we don't do, we don't pack out your displays, and we don't drop-ship. Now, if you're not familiar with pack out, here's what it is.
Pack out is where they take a display, they put all of your product in the display, and then they add little pieces, somebody's adding little pieces because we're not doing this.
Somebody's adding little pieces in there so that they don't fall out when they're shipped. They put that in another shipping box, and then it's shipped out that way to final destination.
The other thing is drop-ship, that is where we're taking a single display, and we're going to put that in another shipping container of some sort, usually something large and long and not so wide, because it's going to be flattened, but that is drop-shipping.
Is Corrugate Ecologically Friendly?
A question a lot of people ask is, is corrugate ecological? Well, yes, it is. It's not recycled material; I will tell you that. But it can be recycled, and according to current statistics, corrugate has a recycling rate of 96 percent.
That pretty much says a lot right there. That majority of the corrugate out there in the world gets recycled.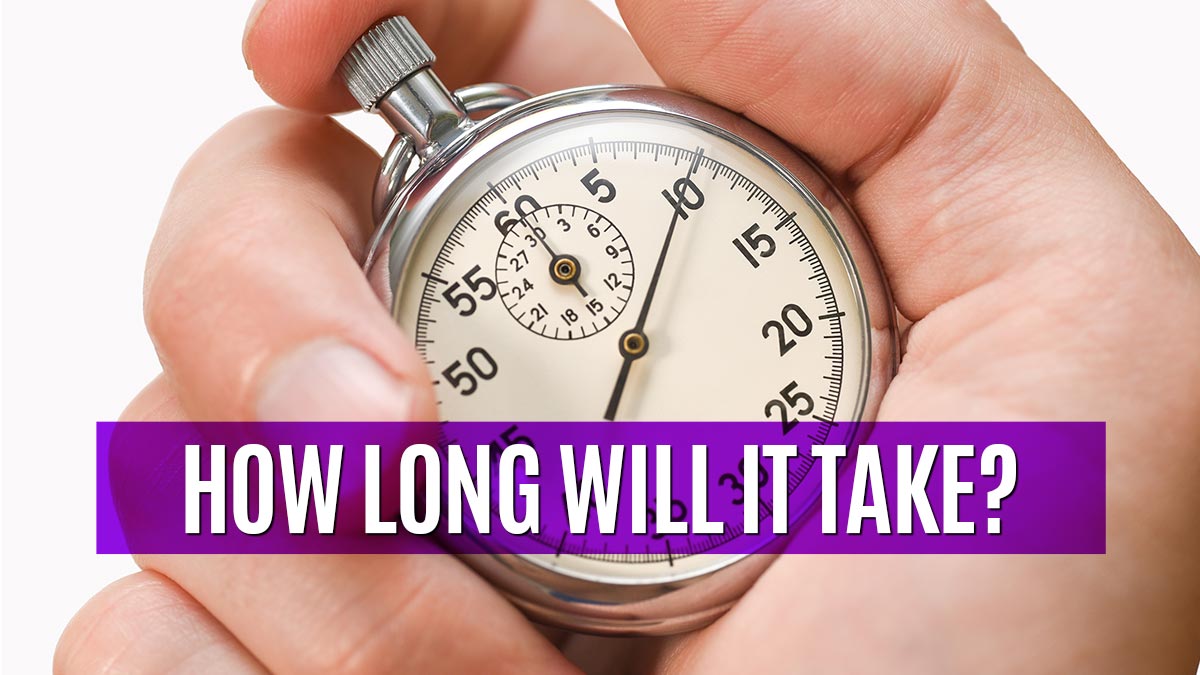 How Long Will It Take To Produce Your POP?
How long is all this going to take? Another big question. So how long is it going to take? Well, again, it depends; some things move smoother than others. But if this project from the moment you say go, and say we've got the artwork or doing the artwork or you've supplied the artwork for us.
In four to six weeks you'll have all the displays that you want.*
Then roughly, that's going to take four to six weeks for us to get you a sample, get that approved. On your approval, then we print the rest of them, whatever the rest means and then we ship.
Sometimes shipping adds to that; shipping lately has been a bit of a bear. But things are still moving; they're just not moving quite as fast as they used to. So let's say four to six weeks, and you'll have all the displays that you want.
So, How Much Does It Cost To Print Your POP Project?
We're back to the big question that we started at the beginning of this video, how much does this cost? Okay, again, I'm giving you a little disclaimer here. There are too many factors involved to give you exact answers, but since you've watched the video this long, you deserve something, right? Okay.
A corrugate counter display is going to range from $35 to $55 each.*
Counter displays, again one more disclaimer, bigger counter display are going to cost more than a smaller one. But they're going to range from 35 to 55 dollars each.
Corrugate floor displays range in price from $65 to $120 each.*
Sometimes I've seen them on the lower side of that, but it depends on how many you're doing, the size, the quantity needed. Bigger displays just going to cost more. Floor displays, they're going to range from 65 dollars to 120 dollars each. (*Disclaimer: Every project is different. Call us and let us determine the cost for your specific display)
Again, there's some disclaimer in air as well, bigger display is going to cost more displays with more shelves, separate shelves are going to cost more. So that's why we like to estimate from exactly what we're going to do.
When you call us, we're going to go through that whole process you just watched. You're going to give us your information; you're going to show us how many products you want on there, you're going to tell us about the size, we're going to work up an estimate and then we're going to take it from there.
I hope that answers all your questions. If you have a question, of course, leave a message for us, or give us a call at 410-337-0066. We're pretty easy to work with and we'd love to help you out. I hope we talk to you soon!
Related articles you may be interested in:
Tips To Get Your Product Into The Big-Name Stores
10 Tips To Better Point of Purchase Displays
7 Reasons Why You Thought Your Product Didn't Need a POP Display (And Why They're Wrong)