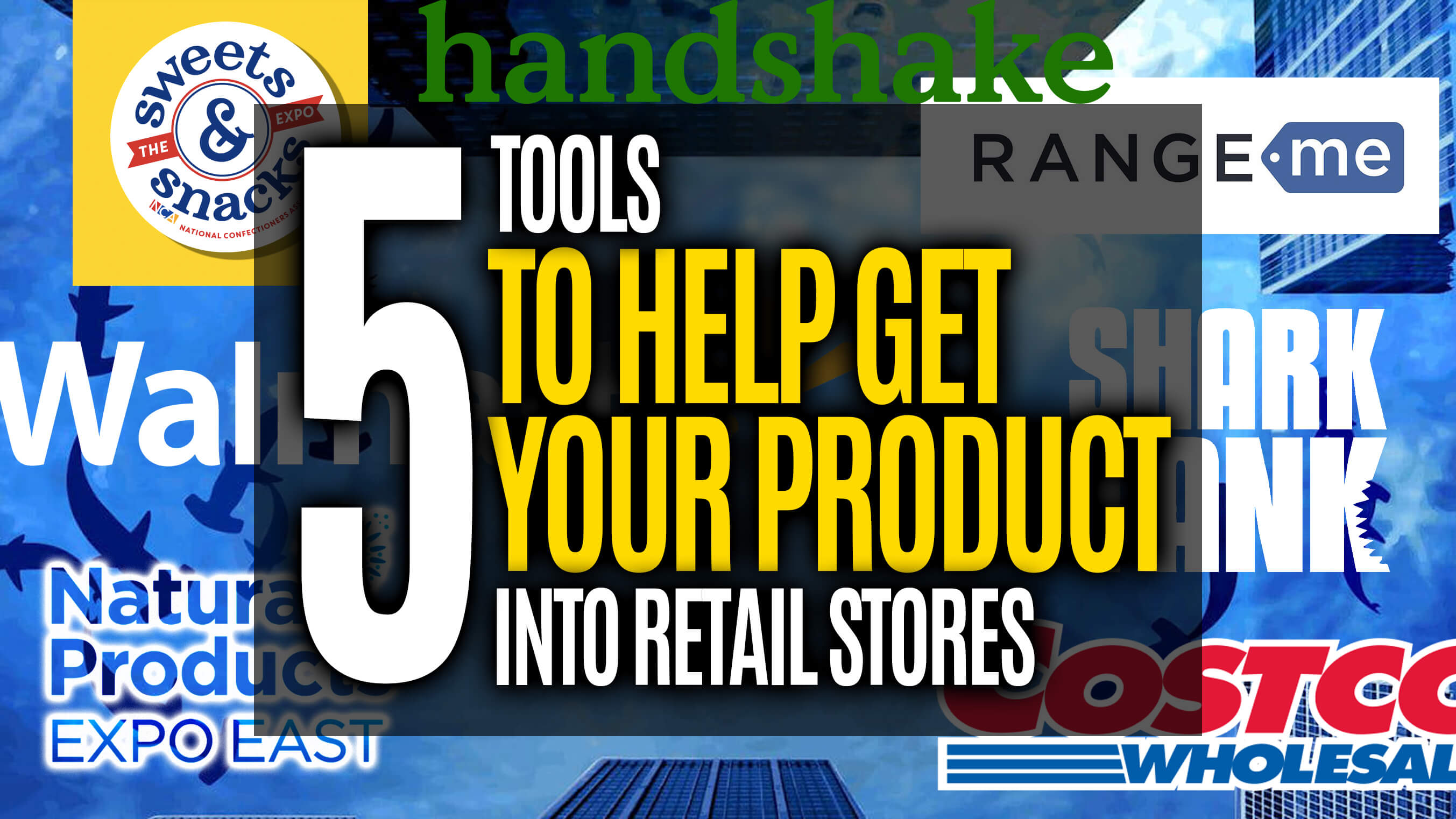 Regardless of what products you sell or what industry you are in, you need to ensure that you get your products in front of store buyers and into retail stores.
If your products are not in stores, it will be much more challenging for you to meet your sales targets moving forward.
When customers see your products on store shelves it not only gives your offerings a certain amount of credibility but also gives them an opportunity to see your products up close and personal so they can get a real feel for what your offerings are all about.
While many retailers opt to sell their products online, there is a lot to be gained from selling in-store.
If you are currently selling your products exclusively online, now is the time to think about getting your products in front of store buyers so you can get them onto the shelves of the major retailers.
E-commerce has blown up in recent years and while it is a fantastic way to sell your products and very cost-effective, it is now more competitive than ever.
Selling your products using a combination of in-store and e-commerce approaches is the best way to ensure that you maximize your sales.
Getting your products into retail stores might seem challenging at first, however, there are many different avenues you can pursue, and with the right approach, you can ensure that your products find their rightful place on the store shelves.
Below, we take a look at just a few tools that you can get your product in front of store buyers and into the retail stores.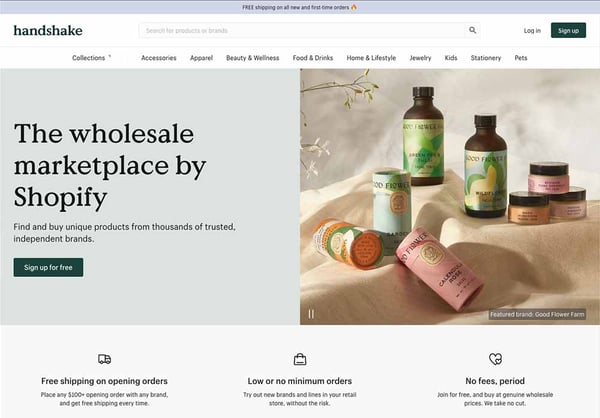 Handshake is an online platform that that brings manufacturers and distributers closer to their customers.
Join The Handshake Wholesale Marketplace
Handshake is a platform that was developed by Shopify to help store owners find one-of-a-kind brands and unique products that they can sell in-store.
The platform essentially operates as a digital meeting place for business owners, brands, and retailers to connect on the internet, allowing them to buy and sell wholesale with ease.
Whether you have a single product or an entire product range that you want to get into more retail stores, Handshake is a great way to connect with potential sellers. They provide a range of tools to help brands and producers reach new buyers and it's completely free to join.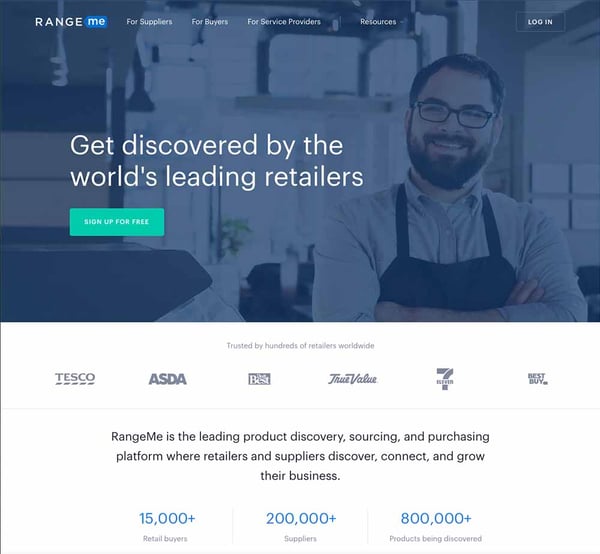 RangeMe is an online retailer-product matchmaking service - often Described as a "sourcing solution for top retailers and product suppliers" in the U.S. and Australia, RangeMe is an online retailer-product matchmaking service.
Help Your Products Get Discovered On RangeMe
RangeMe is one of the leading product discovery platforms online nowadays, making it easier than ever for buyers to discover products just like yours.
The platform has more than fifteen thousand retail buyers registered so regardless of what niche you might be operating in, you can be sure that you will find a suitable retailer that will be interested in stocking your offerings.
Through RangeMe, you can access a range of tools, insights, and other services designed to help you showcase your products to their impressive list of buyers.
Rangeme allows you to customize Product Pages to show buyers essential product and company details like MSRP, price margins, packaging dimensions, order availability, and more.
Once you have connected with potential retailers, you can sell your products directly to them through the platform and use their built-in tools to manage and improve your retail relationships moving forward.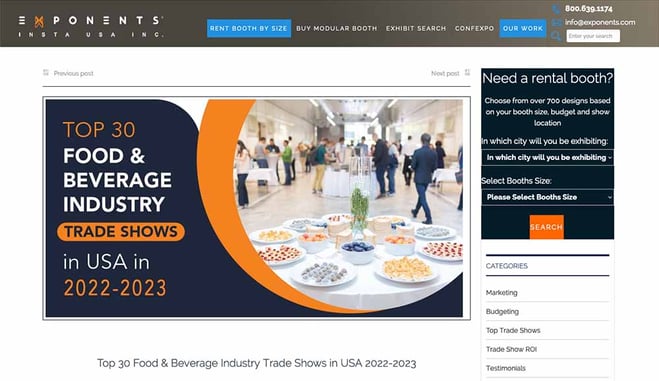 TradeShows are essential for meeting buyers, customers and keeping abreast of your industry.
Attend Trade Shows To Showcase Your Products
Now that the world is finally getting back to normal after the COVID pandemic, trade shows are back up and running.
Tradeshows are a more traditional way to introduce your products to potential retailers than platforms like Handshake or RangeMe but they are incredibly effective.
At a tradeshow, you have an opportunity to showcase your product to retailers in your niche and meet potential buyers face-to-face.
Being able to speak to a potential seller directly, shake their hand and physically show them your product and its benefits can carry a lot of weight.
To ensure that you get the best return from your time at any tradeshow, it's vital that you prepare properly. If you want to stand out against the competition, it's crucial that you put your best foot forward by creating a booth and marketing materials that best represent your product and your brand.
Everything from your elevator pitch to your product packaging needs to be on-point to make sure that you make the right impression on any retailers you meet.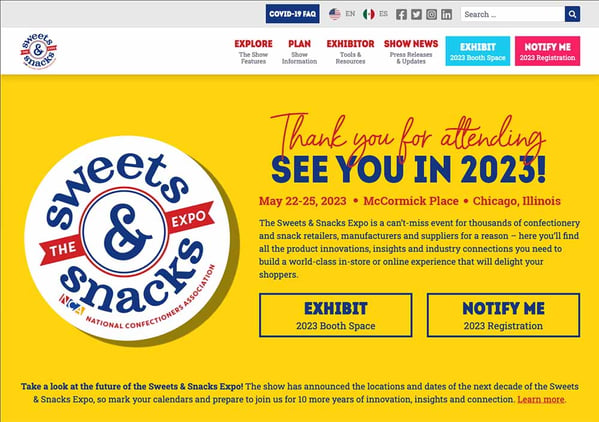 Sweets & Snacks Expo is a great trade show many in the snack, candy and food industry attend. If you have a product in this category, you need to attend!
Typically, there are different tradeshows that focus on specific industries and niches so be sure to choose a tradeshow that aligns with your brand and your offerings. For example, if you are in the food and beverage industry, the Sweets and Snacks Expo and the Natural Products Expo East are excellent choices but there is also a range of other shows that happen across the country.
Another food industry trade show for producers of natural, organic and healthy products.
Choosing a tradeshow that is niche-specific is always the best approach if you want to get your new products into retail stores with ease.
Apply For One Of The Major Retailer's Open Calls
If you really want to get your products onto as many shelves as possible, one of the best things that you can do is to strike a deal with a major retailer with multiple locations throughout the country.
These retailers have a lot more sway and influence than smaller stores and can have a huge impact on your overall sales figures each year. However, getting your products on the shelves of major retailers such as Walmart or Costco was always known to be a difficult task in the world of retail.
However, in recent years, these retail giants have started offering opportunities to new suppliers in an effort to both strengthen their supply chains and add more diversity to their supplier base.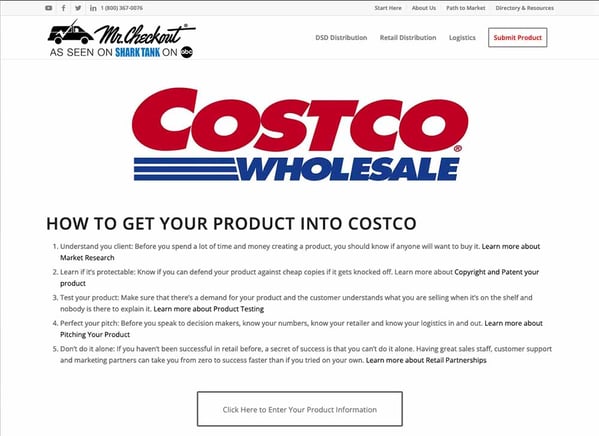 Costco has put an emphasis on adding products from companies that focus on sustainability and diversity.
While the concept of open calls has been around for a while, sometimes under different guises such as RFPs (Request For Proposals), the latest round of open calls is different.
Companies like Walmart and Costco are looking to work with companies that publicly put forward goals that center around sustainability and diversity to add another dimension to their offerings while also improving their own public image in the process.
These giant retailers are invested in supporting small businesses and, with your product on their shelves, the sky is the limit for your success moving forward.
Showcase Your Offerings On Shows Like Shark Tank
Shark Tank is a business reality TV series that feature a panel of investors, who look at the offerings of various entrepreneurs and decide whether or not to invest in their products.
Contestants much make a business presentation about their company and/or product and based on their presentation, the investors, or "sharks" will choose whether or not the investment is worthwhile.
The investors are known to be quite ruthless in their evaluation of the products presented and will look closely for faults and weaknesses with the offerings.
However, while these "sharks" are paid cast members on the show, the money they invest is their own, and success through this type of show can have a very positive on your brand.
Applying for shows like Shark Tank is certainly a great way to bring your offerings to the fore and showcase your products to the world.
However, it can be a long process and the odds are not generally stacked in your favor. Tens of thousands of people apply to be on the show every year, each of who are equally passionate about their products and determined to succeed.
Even if you do make it through the auditions and you get accepted onto the show, you may not feature as they record more segments than will actually air. However, if you do make it onto the show, you have a chance to get a deal where the investors will put some money behind your product and also offer their expertise to help you move your brand forward.
On the other hand, if you get on the show but don't secure a deal, you still will have had a chance to showcase your products to more than eight million viewers, which can also help you to find a path to success for your brand and ensure you get your products onto more store shelves in the future.
Ensure Your Products Get Onto Store Shelves & Boost Your Sales!
Getting your product onto store shelves is crucial if you want your product to be a long-term success in your niche.
While there are many benefits to selling your products online, if you truly want to take your sales figures to the next level and boost credibility in your brand, selling in-store is the best way to go.
E-Commerce can be a great money-saver and an efficient way to do business, however, it will never be able to provide the same customer experience as shopping in-store.
Giving potential customers an opportunity to see your offerings in real life on the shelf and have a tangible experience with your products will allow consumers to have more trust in your offerings, which will lead to more sales and an improved brand image moving forward.
There are many different ways that you can get your products into retail stores, such as those listed above so be sure to consider your options and choose an approach that will work best for you and help you to achieve your goals.
If you need help preparing your product packaging so it's "Store Ready", OR you just want to upgrade your package to a more professional look, give us a call - 410-337-0066.
Here's another blog post that might help you prepare for the 'BIG' time: