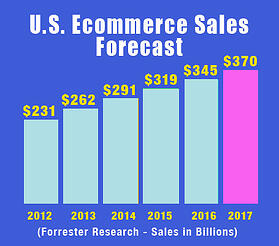 Forester Research Report states that U.S. online shoppers will spend $327 billion in 2016,a 45% increase form 2012. Ecommerce industry is growing at a huge rate. Online retailers need to increase their offereings to have an advantage. Forrester Research Report says the majority of growth is a result of ecommerce companies improving their services and websites and increasing product offerings.
A lesson from the most successful and innovative ecommerce companies is that your buisness can increase on-line revenure by adding more products. Being prepared to handle the increased business is a must. It can be difficult managing larger product inventory, vendors and marketing. This requires tracking and understanding your customer, using your unique data to increase your online store offerings and how to drive more customers to your site.
Customized Product Descriptions
Customized product descriptions will help improve SEO and separate you from the competition. Standard descriptions are just that, providing details and specifictions. We all rely on our emotions to make decisions. Will you buy something or make a commitment to an event if it will make you bored, uncomfortable, or unhappy? You buy cold medicine because you want to feel better, eliminate sore throat, runny nose.
Customized product descriptions can personify your brand and engage with customers in an intimate way. Increasing brand memorability and advocacy helped "Nasty Gal" a new highly successful online shopping site sell nearly $100 million last year. This store sells new and vintage clothing and accessories. It is commited to its brand image, cultivating and engaging its community of loyal shoppers. Custmized product descriptions improves site SEO to bring in new customers.
Photo Branding
HauteLook brands every photo on its site. They put every photo goes through retouching process making all backgrounds white, removing imperfections, minimizing reflections and making sizes consistent. If you have control over the original photography you can minimize this retouching process having the photographer shoot to your brand requirements. Your brand is developed by the visuals you put out to the public.
Consistency in how your logo is used, photos are formatted and copy is written all work together to build brand recognition. Some of the most successful and older companies have leveraged color as one of their strongest brand identifiers. If color can work to identify a brand, how much stronger is a photographic style in identifying a brand?
Customer Support
Every company needs to have customer support strategies. Quick effective customer support is a complex challenge and one of the most effective tool in creating customer loyalty. The internet is open 24-7. How you manage customer service can be dictated by your product and your brand statement. Every site has to have a link to allow immediate email contact and has to let customer know when to expect a response. Hours of operation lets your customers know when a live person is available. Pop-up chat windows let customers know they have immediate access to answers without picking up a phone.
Many ecommerce companies choose to outsource customer support. Some companies have a tiered system with both U.S. and overseas centers. They have developed a process, filtering inquiries so they can be forwarded to the appropriate customer service center. For instance, complex and volitile issues are sent to U.S.
Not every company needs to outsource. It may not fit your company personality or size. Designing your customer service system around your customer and your brand is essential.
To expand your online business, the bottom line is providing more product on a branded easy to use site with customer support your customers expect and your business needs to take advantage of the huge ecommerce growth projected between now and 2015.