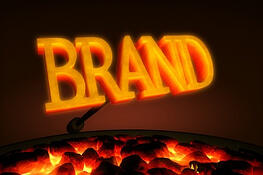 What is branding? That's been the question for as long as human beings have learned that looking at shiny objects is cool. Since the rise of structured economic systems, however, the question has shifted a bit. Now, it's: What is branding in business?
Whether you're still trying to impact the market with your new startup company or simply looking stay relevant in the fast-pasted, ever-changing times, branding is everything. Seriously. If we've learned anything from being a consumer-based society for so long, it's that banding can make or break a company's longevity. A memorable logo and smart product packaging can transform a burgeoning business into a household name. But on the flip side, awkward or ineffective stylistic and creative choices can sabotage a company's chances at staying in the sphere of public influence.
90% of information transmitted to the brain is visual, and visuals are processed 60,000X faster in the brain than text. (Sources: 3M Corporation and Zabisco)
The trick is to build your business' visual persona through the most skilled means you possibly can. Today, that usually means buckling down and hiring a top-notch web design and development agency to handle your website launch.
But as important as it is to stay on top of your game on the internet, there's still a great need for physical, tangible, creative packaging design for the real products people like to purchase in brick-and-mortar stores. You simply can't underestimate the true value of a powerful physical branding. After all, the more bases you have covered, the more business you're likely to enjoy. So, when it comes to learning how to brand a business, the breakdown is likely to look a little something like this:
The Digital
Two words: web design. Two more words: web development.
Though these two sound alike, they actually require two completely different skill sets to optimize. Design is ensuring a polished site that's pleasing to look at for first-time (and hundredth-time) users. Development seeks to ensure any user can find his or her way around the site without any issues. How to brand a business starts right from the web, and there's no better way to gain a customer on your good side than to invest in some seriously efficient and practical website design and development.
The Physical
If you're selling a good inside a physical retail store, it's all about product packaging design. If you're selling a service, it's all about designing a winning logo that conveys the kind of reliability you want your business to be known for. For anything in between, the same kinds of rules apply. In other words, when you're getting ready to launch your new business, bring in as creative a team as you can find and start to brainstorm.
What do you want your logo to say about you? What kinds of colors do you want to be represented by? What about the psychology of this design is going to make your customers want to check out your brand? All this needs to be conveyed in simple, effective logos and designs -- which can be accomplished with the help of a fiercely creative team.
There you have it, the most important lessons you need to keep in mind for how to brand a business. Remember, it should always be about joining the digital with the physical and meeting somewhere creative in the middle.