I find it time consuming to go through emails that don't have subject lines. When I need a client's attention and fast response the subject line lets my client know what I am writing about. I don't need to include "Urgent."
The purpose of an email as is in any direct response campaign is to get the recipient to take a specific action. We stress the importance of keyword in a website and they are as important in the email subject line. Consider the keywords that would motivate a customer to click on a result in a Google search. A subject line has that same opportunity to motivate the action to open it.
Subject lines are critical to better email open rates
Junk email is even more prolific than standard mail ever was. We employ filters to reduce the quantity but setting the filter too high will block important correspondence. We changed email hosts and client emails were sent to spam folder and never delivered. There isn't time to read every email nor the interest.
Consumers speed read through their in boxes looking both at the sender and subject to determine what they will open and what will be trashed.
How will they search? Consumers speed read through their in boxes looking both at the sender and subject to determine what they will open and what will be trashed. I have many prospects that provide Gmail addresses. Many don't realize that important responses they are waiting for get put in their junk box because of Gmail's programming.
A consumer may also search their inbox to find the emails of interest and find older emails they have opened. One way to search older subject lines is with keywords.According to Contact Monkey the best performing contained "Re" or "Fw" for emailers trying to sell to recipients.Re:" has a 92 percent open rate, closely followed by:
Re: Follow Up (90 percent)
Re: update (89 percent)
Re: Introduction (88 percent)
Re: Checking In (87 percent)
We are a Hubspot Partner. Email is a critical tool to their program so email subject lines are a critical component of their training. They have extensively tested and researched to find what prospects will open, read and respond to. A great article to check out is "26 Sales Email Subject Lines That Get Prospects to Open, Read, and Respond". They placed "Re" at number 26.
Blank subject line gets an 8% open rate.
I guess this proves we are all curious and cautious. Human nature – we don't want to throw away a critical email and will find ourselves opening them… until we recognize the sender.
Recipients Will Ignore Throwaway Words.
"Drawing on data from over 500,000 sales emails sent by Yesware users in Q1 2014, we found that subject lines containing the word 'hey' resulted in lower open and reply rates than other common subject line keywords." finds Yesware. Remember that, courtesy matters. Adestra states"Looking at the top 10 best performing keywords across all industries, we've seen both 'thanks' and 'thank you' on the list," writes Jennifer Watkiss. "While this shows that customers enjoy acknowledgment of their actions, these types of emails are generally automated ones. This makes me believe that timing also has a crucial impact on the open rates of these types of emails."
Adesta charted the best and worst performing keywords in subject lines.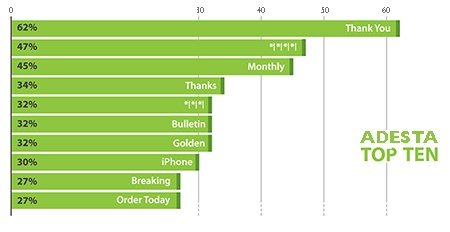 Worst-performing keywords in email subject lines in 2015, according to Adestra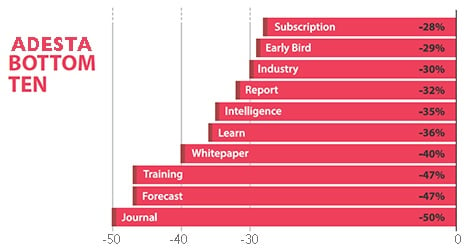 A whitepaper or subscription offer may be of high interest to your prospect they are motivated by what they will gain. FREE is a great motivator and discount offers can close the sale. The closing shouldn't be a subject line.
Do you want to get better open rates for your emails?
We can help. Call 1-888-337-0066 for a free 20 minute consultation.
Tell us your best email subject lines?