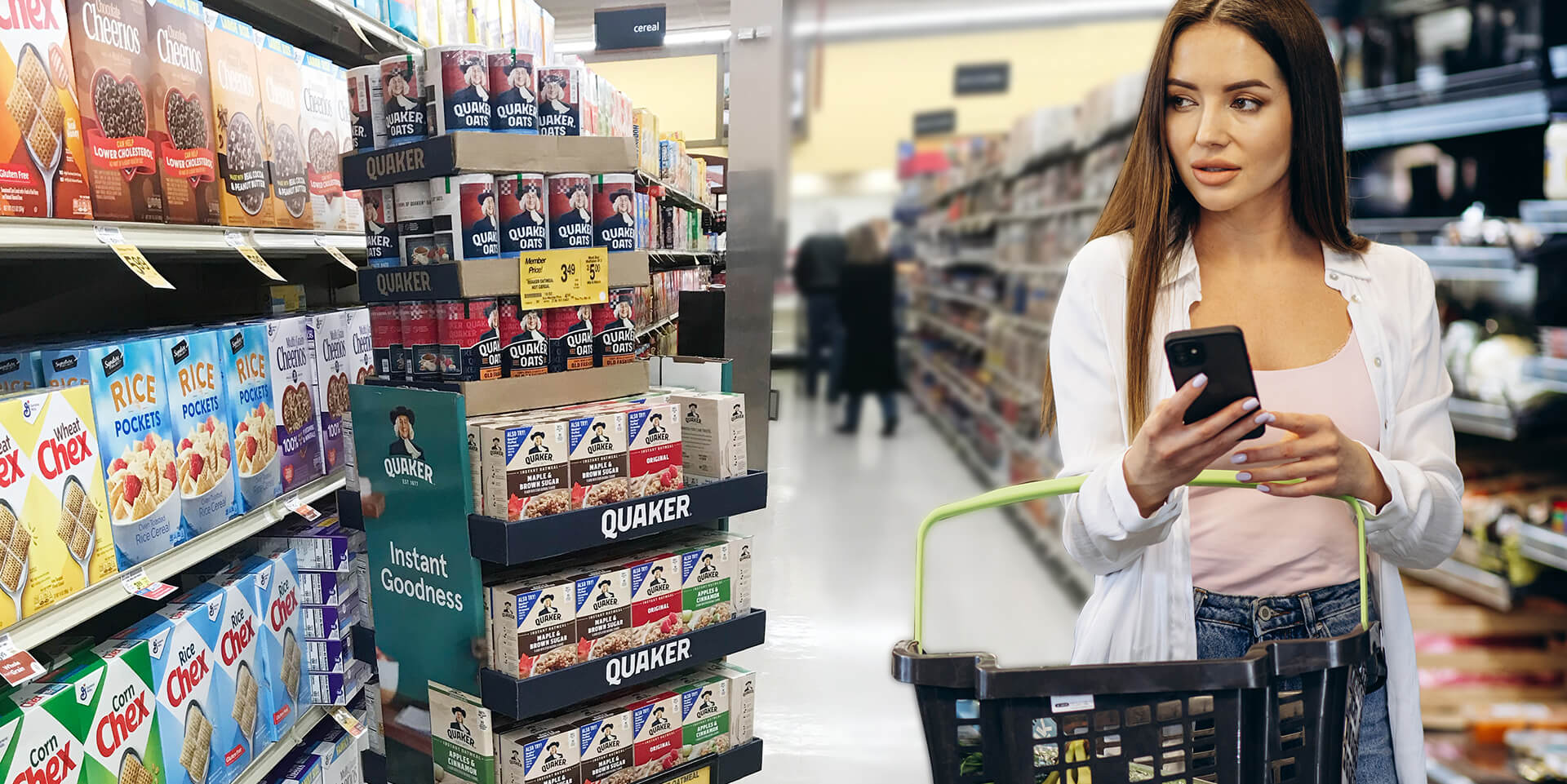 Whether you own a small store or a nationwide retail franchise with multiple departments, thoughtful implementation of product displays allows you to increase revenue through better visibility and more effortless flow for customers.
Every retail store is competing against online stores with their ease of use and overnight delivery options.
Many consumers have less time and patience than they ever have for in-person shopping which means when they arrive at the store, you need to ensure that your product is front and center in an attractive display that grabs their eye, informs them about the product, and brings attention to your brand.
As a business owner, you need to ensure that you create a point-of-purchase display that will really make your offerings pop in-store.
You must make the buying experience as smooth and painless as possible and add value to your product through the display you create, how you package your offerings, and the way in which you present your products.
Part of this process means having an outlet within or nearby the established centers they already shop at.
Attractive brand packaging and quality displays are critical in leading consumers' eyes to your product rather than your competitors, making point-of-purchase displays a very worthwhile investment.
Below, our team at Catalpha explores how you can use cardboard displays, brand packaging, and the skills of our creative team to ensure your products always stand tall next to the competition.
Cardboard Displays
Perhaps the most inexpensive and easiest method to increase sales of your products is through the use of POP and POS cardboard display products.
Point of Purchase (POP) displays are systems that can be placed in strategic, high-traffic areas throughout a store to attract attention to the products displayed on or within them.
They are typically constructed with cardboard or other lightweight materials, making them completely portable and adaptable to many installation scenarios.
Common places to install POP systems include high-traffic areas near the front of the store where customers enter, making these displays one of the first things consumers see upon walking through the door.
Stores that run weekly newspaper ads or television spots where certain items are heavily promoted want shoppers to easily find these sale items, and cardboard POP displays are the perfect system for that.
A typical example of a POP display you see in grocery stores features beer or food promotions centering around football or other professional sports viewing parties.
Because the displays are constructed from cardboard, they can easily be printed with whatever information, imagery, or branding might be required.
Major holidays like Independence Day, Christmas, and New Year's Eve are other scenarios ideally suited for a limited-run promotion using point-of-purchase displays.
Again, they work best in areas where many shoppers are walking by or congregating, such as near your type of product or registers.
With your displays in the optimal positions around the store, you can ensure that more shoppers are exposed to your products, increasing sales in the process.
POP Display Advantages
Standing out from competing products is the main advantage of POP displays. Point of Purchase displays will often have special colors and logos related to the promotion that is running to further differentiate the products on display from anything else in-store.
Increased In-Store Exposure
Customers looking to buy a bottle of barbeque sauce may choose the brand that is displayed on a POP system simply because it was placed on the end of an aisle of shelves versus placement with all of the other brands of sauce, thus adding ease of access to the equation.
These displays can also provide a secondary location for the product you are selling, thus getting more views of the same product within the store.
For example, using the barbeque example again, you may find all of the available barbeque sauces in one designated set of shelves within the condiments aisle.
In addition, you'll usually see one or two sauces promoted and displayed on a POP system, perhaps near the fresh-cut meats and deli counters using a strategy to promote complementary goods.
By using open space in the meat section for promoting seasonal items like different seasonings or condiments that go along with meat, you stimulate ancillary purchases relating to the items offered in a particular section or aisle, boosting sales in the process.
Attract Impulse Buyers
Impulse buying is another advantage of these types of displays.
Many POP displays use aggressive brand packaging to catch consumers' attention as they walk by.
The more customers you can get walking past your POP displays, the better chance you have of stimulating impulsive purchases of your products, which they may not have been planning to buy.
Easy To Design And Customize
Perhaps the best advantage of these systems is that they're quick to design, prototype, and build.
CAD design programs combined with high-tech printing allow us to build brand-new displays to coincide with any holiday or promotion imaginable.
For even more visibility, you can add LED signs, audio messaging, and coupon dispensers to increase customer interaction and interest.
Special Offers And Promotions
With POP Displays, you can also use special offers as an introduction to your new line of products, perhaps using a buy one get one free (BOGO) promotion to generate consumer interest.
Using these strategies will help to bring more attention to your product.
Competitions, giveaways, and other attractive offers can also be incorporated into the design of your POP display to ensure that it attracts as much attention as possible.
Different promotional techniques will work for different products and brands, depending on what you are selling and where you are positioning your product. For example, a high-end make-up brand may offer a free make-up bag when you spend a certain amount.
While a new line of sodas, which will have a much lower selling point, might benefit more from a buy one get one free type promotion.
Point of Sale displays (POS) is a similar in-store cardboard display strategy that successful retailers use to increase impulse buys.
Placed strategically in or very near the lines for cash registers, these smaller display items are placed on shelves that are usually in direct eyesight, tempting consumers as they wait to be cashed out.
Products showcased in these displays range from popular candies to small flashlights, lip balms, and small gifts for various occasions. Depending on the product, POS displays may have similar custom brand packaging to POP, albeit on a smaller scale, due to size constraints in checkout aisles.
The main advantage of POS displays is to tempt consumers with impulse buys of smaller, less-expensive items while they are in a spending mode and they can be very effective in helping to increase sales.
Brand New Product Introductions
Brand new items are another great candidate for showcasing within both POS and POP cardboard displays.
New products that have been on the market for less than three months need that extra visual boost to get noticed by consumers.
A customized cardboard display will help you to shout from the rooftops about your new product in such a way that more people will hear you. Launching a new product is always a challenging event for any business whether you are a startup just getting off the ground or you are an established brand.
Based on market surveys, smart manufacturers know that 70% of shoppers do notice in-store product displays, making them a more than worthwhile investment.
Retailers and brand agencies can plan and execute coordinated strategies to promote entirely new product lines with displays visually tied in with local and national branding, colors, logos, and everything else required to make your products stand out in-store.
Varied Display Types
Branding agencies offer many different types of in-store point-of-sale and point-of-purchase cardboard display brand packaging systems. Let's take a quick look at some of the most common displays so that you can decide which strategy is best for your products.
Interactive Displays
Meshing cutting-edge tech with traditional branding methods, interactive displays can integrate everything from low-cost tablets playing commercials and product description videos to motion-detecting audio playbacks when someone stands nearby. LED accent lighting may also be used for added visual flair.
As technology continues to advance and costs go down, this allows you to push the boundaries of what an in-store display can do for you. If you've attended any trade shows recently, you will already know how impressive some of these interactive displays can be and the impact that they can have on potential customers.
Many are spec'd out with strobe lights, smoke machines, and high-quality audio speakers in addition to floor tiles and branded carpeting, effectively guaranteeing that nobody will miss your product displays.
Temporary Displays
If you need a low-cost option for split testing, temporary displays built from cardboard may be the way to go for short to medium-length campaigns. They are a great option for seasonal promotions, new product introductions, and enhancing the visibility of your products in the store overall.
Semi-Permanent Displays
Many products call for a sturdy display, where the construction materials are more complex. Heavier products such as tools and other higher-end items require more sturdy display shelves and countertops constructed from wood, particle board, and aluminum.
While still versatile as far as their ability to move and break down for shipping, they offer more safety features and overall better quality construction since they'll be on display longer.
Permanent Displays
As the length of your promotion campaign grows or the size of the promoted item increases, you may want to consider a permanent display such as a kiosk or a large bartop-type platform where sales reps behind the counter can interact directly with tradeshow attendees.
Construction of these kiosks includes steel, wood, Formica, and heavy-duty plastic. Expect to see integrated lighting, flatscreen monitors, branded flooring, and wall partitions.
Potential uses of kiosk displays include auto parts shows, gun shows, hunting & fishing trade shows, and sporting goods stores, just to name a few. To level up even more, you can integrate POP and POS displays within permanent displays like kiosks for the ultimate professional-level display.
Which Display Fits Your Needs?
Finally, let's briefly summarize the factors that determine which display you need.
● Size And Location
The size of the location, store, or space within a tradeshow that you will be using for your products.
● Popularity Of Your Products
If you have brand new products ready for launch, it's wise to introduce them to customers through a customized campaign created by a branding agency that will help you tie in all of your existing logos, colors, and messaging into a cohesive strategy consumers will identify with.
● Safety Compliance
As the size of your displays grows, safety factors come into play. Large auto parts like steel bumpers or custom wheels need securement to prevent damage and injuries to patrons and shoppers. In these scenarios, it is wise to choose at least a semi-permanent display constructed from strong materials like steel and wood.
● Length Of Your Promotion
Shorter promotions typically include temporary cardboard displays that are easily repositioned throughout whichever store you are working with. These are great for seasonal items like food and beverages but can work well for other product types too.
● Goals Of Your Promotion
New product introductions are a fantastic use case for these in-store displays, but existing products sometimes need to be reintroduced to your customers as well so it's important to be clear about your goals when making a final decision.
Get In Touch With Our Team At Catalpha Today
To learn more about how customized cardboard displays can help you move more products during peak and slow shopping periods, get in touch with our branding agency specialists at Catalpha today.
Our packaging and display experts can help you to design a customized promotion campaign specifically formulated around the needs of your business.
We have partnered with companies in a wide range of industries and niches with all sorts of different requirements and have always helped them to achieve their goals.
With an experienced branding agency like Catalpha by your side, you can be confident that you will be able to increase your sales with confidence moving forward.