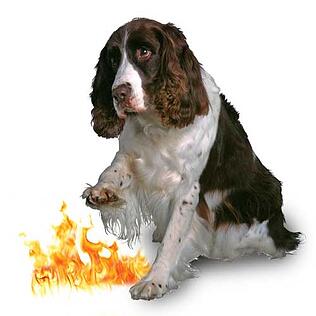 Every year the weather for Artscape, in Baltimore, is either super hot or raining. This year there was a little rain and it was super hot. As I walked around Artscape this Sunday, I noticed some people brought their dogs. I wondered how the dogs could walk on the scorching pavement. It was so hot you couldn't sit on benches or curbs. One pup hid under a food vendors truck, refusing to leave the shade it offered.
Watching the dogs trying to cope with the heat made me consider that people too often focus on doing and not enough time preparing. In business, we will get burnt if we become too focused and loose sight of our competition, customer needs, and industry influencers. Immediate problems distract us. The things we enjoy doing are a great escape from the things we should be doing to keep our business on track and positioned for success.
Before racing off to do what obviously needs to be done, stop and consider whether you have the right tools and people in place to intrigue and engage customers impressively or you may get burnt. Bad impressions can be impossible to change. Your marketing tools need to be professional and speak to customer needs. Though you know your customers well, do you feel your current marketing efforts are pulling in the amount of leads and sales they should? Maybe you need an fresh eye on your copy and visuals, someone who can look at it from a customers point of view?
In the case of Artscape, people were excited about going to the event because it is dog friendly. Who doesn't love dogs' enthusiasm and unconditional love? But they can't speak and many dogs don't show they are in pain. A great deal of our customer contact is through email, website and on the phone making it impossible to read their face and body language. Your website has to do more than just deliver brochure content. Emails are welcome communication method for the busiest customers. Are you using these methods to reach your customers the way they are most comfortable with? Sending Thank You emails, Happy Anniversary messages and more provides an opportunity to stay in touch and continue a relationship. People buy from people they know and companies that know them. Are your burning bridges or keeping the relationship warm?
Download our ebook for more ideas on developing nd nurturing leads.