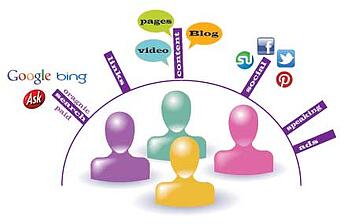 There are almost as many ways that a web redesign can hurt you as can help you. Before you start to rework your website, make sure you have a back-up copy of your complete website. It's almost a given that you will likely be reusing some graphic elements and content. WHy recreate the wheel if you can just update it? Organization and back-up will save a lot of time and headaches. Knowing which are critical assets to keep in your redesign requires understanding the research discussed in the previous "Redesign" articles.
Which Channels Drive Your Best Traffic And Leads
Having gathered all the analytics about your website, can you tell where your traffic is coming from in terms of visits, leads and aquisitions? In planning the redesign this information lets you know which assets are the most valuable.
These assets include:
Most shared or viewed content
Most trafficked pages
Best performing keywords you rank for and associated pages
Number of inbound links to individual pages
Why is this important? Let's say you remove a page that has a high number of inbound links. When the links disappear you could lose a lot of SEO credit, and that will only work to decrease some of your keyword rankings.
HubSpot's inbound marketing software can get you this information and present it to you in easy charts so you can know how social media is driving leads compared to organic and pay-per-click advertising. With that knowledge, determine which channels are bringing you leads versus browsers. Drill down to why and determine whether the success can be replicated on the poorer performing pages and channels.
Remember when we wrote earlier that you need to make sure your designers know your goals? Designers focus on designing an eye-catching site, they often don't think in terms of assets. By providing the depth of information we asked in the previous 2 articles that you collect, you will give the designers valuable direction on what your target audience is responding to. Charge them with using that information to make the new website perfomance build on the success and thread it into the lower performing sections and pages. Make sure the value you have in your current website is not designed into oblivion.
Analyze The Competition
What did you learn from your competition? Did you find anything you didn't expect? Here are 3 easy ways we capture competitor data.
Go to marketing Marketing Grader (http://marketing.grader), and get a report card of how your website and marketing is performing today.
Type your competitors' URLS into Marketing Grader. Within minutes you will have a document that points out their strengths and weaknesses.
Visit your competitors' websites. Act like a customer and try to be objective about what you like or don't like about their sites. We are not talking about copying them – but rather this is a way to discover what you can do better.
Do you wonder how your site is performing compared to the competition or other companies? Using HubSpot you can get benchmark your website to your competition.
Find out how your competitors are faring in search, social media and lead generation.

Get a detailed report on each of your competitor that will give you more insight into their strengths and weaknesses.

Compare lead and sales conversion rates with other companies.
HubSpot is so robust, its allows you to set goals, monitor, test and refine to maximize your efforts. You can manage and execute email campaigns, manage inbound leads, and more. Contact us to see a no-obligation demo and determine whether this is a tool that can take your business to the next level.