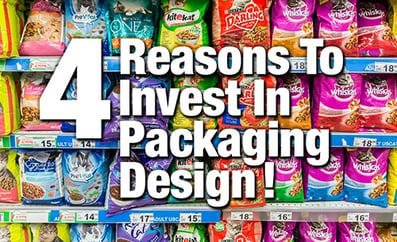 One of the best early investments you can make for the future of your business is to invest in professional packaging design.
High-quality packaging will supercharge your business to a brand new level.
For most consumer products, we believe, package design is the single most sales-effective and cost-efficient marketing tool.
Here are just a few examples of how investing in packaging design or redesign can result in a big payoff:
#1 - New Look = New Customers
The appearance of a product affects our first impression of it.
'For the great majority of consumer products, package design is the single most effective communicator of a brand's core identity*.'
For that reason alone great packaging design is essential to your product's success.
Add to that the fact that your product is competing for attention on shelves that are crowded with your competition—both online and storefront—and an innovative package design becomes even more important.
Your brand is expressed through its packaging design so keeping it fresh is key to its success.
According to most branding experts, it's a good idea to change the company packaging as frequently as every three years.
You might want to make a change sooner if one of your competitors has a new and successful image, or if another product is making an impression in your market.
Giving a new look to your product packaging can get customers to take a new look at you as well.
#2 – Helps Grow Your Business
If you have a growing business and you want to expand it even further, packaging design is an amazing and high-performing method to get you to the next level.
If your product line is expanding or you're taking on some serious competition in the market, it's probably the perfect opportunity to redesign your packaging.
#3 - Great Investment For Your Business Value
Professional packaging design definitely pays off in the long run. Studies have shown for every dollar spent on in-store advertising, there's been a Return On Investment of $7.21 for every dollar spent!.
That's an investment that will show immediate improvement in your business and even greater returns in the future.
A great brand and strong brand identity can establish you in the market, adding long-term benefits to your business.
If you sell your company, this investment in your brand will be a big part of your company's valuation.
#4 - Increases Your Profit
Perhaps the best reason of all to develop new packaging is that it helps improve your profit.
It's obvious that a well-designed package adds a lot of power to your shelf presence. It makes you stand out in your market and establishes an identity, which becomes brand loyalty as long as your product quality follows through on the promise made by the package.
A professional design and brand appearance will be memorable and create brand recognition. If your product can please and satisfy, you can serve customers again and again.
We all know it's easier to serve existing customers than to find new ones.
*Design Management Institute: Proving Our Value: Meauring Package Design's Return on Investment
Learn more about the packaging design process on this blog post:

Have a comment or question? Leave us a note below...