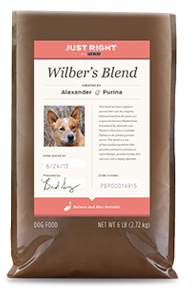 Purina is taking a big leap with personalized dog food and packaging. The popular U.S. brand is the first to come out with a way to personalize your pet's food down and even the label. By combining technology and packaging Purina can create custom food and labels for your pet. In return allowing the company to create a better, more personal relationship with the customer and their pet.
Not only do dog owners get to create a completely personal diet based on many factors such as pets age, needs, favorite tastes, breed, size, etc. But they are also allowing the customer to add a photo of their dog on the package. What could get more personal than that? A product and package designed for your pet exclusively. After Purina has the customer's pet information they use a custom CRM capabilities to check up on the customer's pet, have an online chat to ask any questions, and remind the customer when it is time to re-order food.
Purina's research showed that 70% of pet owners wanted more control of what's going into their pet's food. They took this information and used a combination of technology, communications, and packaging to allow them to come up with the idea of a personalized dog food system bringing in more customer satisfaction and loyalty.
Where do you stand? Is this something you'd be interested for your pet? Many people seem to like Purina's new innovative design. Maybe something like this could work for your product?