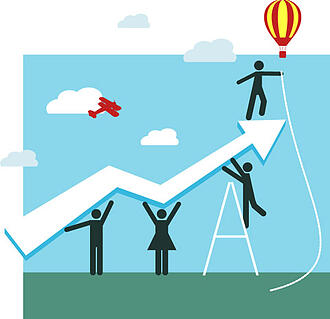 Are you looking to increase your online presence (Google rank)? If you are like most small businesses I deal with, you want more customers, more leads. You want more customers calling and ordering. There's various ways to do that, including PPC, Social Media, Direct Mail, Cold Calling, Networking, SEO, Blogging, and hiring a lead development company. How much is your business success worth?
You know your business inside and out, but are you expert at SEO, social marketing, and today's advertising techniques? Keeping up with the best marketing methods takes experience and time. So, it is in the best interest of your company to hire an expert marketing firm to provide guidance and execute some or all of your advertising. That is a smart thing to do. If you are considering hiring a consultant for SEO be sure they are not out for a quick buck.
If an SEO company promises to get your website listed on first page results of searches in a month hang up, delete that email, throw that direct mail piece in the trash. It is best that you avoid doing business with companies making such a big promise. Here are some tactics unethical companies use to get short-term results that can be costly to your business.
Some SEO companies/consultants, etc. utilize 'blackhat' techniques (unethical) to quickly get your website ranked higher on Google. Results are fast but will not last. Google is looking to shut down websites that use unethical techniques for keyword listing results.
What would it mean if your company doesn't show in any search results?
That could happen. Google is constantly changing their algorithm to deliver relevant keyword/key phrase search results which impact organic search results. The algorithms validate the authority of your website to the keywords your site is claiming. 'Blackhat' techniques can cause your site to be de-indexed, removed from search results that are going to your key audience. An SEO company that promised an unrealistic time frame to get you on first page is just out for the quick buck. Don't fall for it.
Some SEO companies outsource their work to Fiverr ($5 jobs) to appear that they are working to deliver on their promises. This can be smoke and mirrors technique. You'd see lots of work being done and maybe reports that indicate they are delivering results. These companies will overload you with impressive reports about link improvement and blog comments, traffic improvement, etc.; which they hope you won't understand or question. They know most people that hire them won't spend time looking at the reports and are happy to take their word for the meaning. The reports make it look like they are doing a good job. Any results that you get from this are usually short term at best, and at worst (and is usually the case), blackhat techniques that can damage your search engine rankings. If an SEO company offers or tries to sell you a SEO package that guarantees 1st page rankings in a month or X amount of blog comments, then there is a good chance that the techniques they use are actually not search engine friendly. It is best to keep looking for a reputable company.
SEO companies often try to overwhelm you with tech talk. They don't spend the time to educate or care whether you understand. It is to their advantage if you just trust them. They don't want any questions about what they are doing for the monthly contract. The hope is you are so busy running the company you believe all is going well and when they ask for a higher monthly contract you agree because you assume they are ethical. Or they hope you don't want to look stupid in front of them or your boss.
Don't be afraid to ask questions. A quality SEO consultant that is concerned about keeping your for a long-term client will welcome the questions and do everything to help you understand. It will be in their best interest to understand you company and results you need. The only way that can happen is if you understand enough about SEO and Internet marketing to guide them to the results you need. So, ask as many questions as you need to feel comfortable. Any SEO company that will not answer your questions or their answers leave you confused should raise serious red flags.
The reality is you have worked hard to build your business and not having a credible online presence presents a real risk to your continued success. Ignoring your website and not marketing is no longer an option. Choosing an SEO consultant/company based solely on price is like choose a car for your family based on price and disregarding safety and lifetime cost.
It takes time to do SEO properly and it takes a reasonable investment, an investment based on the results you outline to your consultant. There are affordable packages and ethical consultants that are focused on bring small businesses results that translate into improved search and web sales for their customers, both ecommerce and B2B.
What is the outrageous promise an SEO company told you that they didn't deliver on? I would love to read your comments and help others avoid your bad experience. You can comment below.