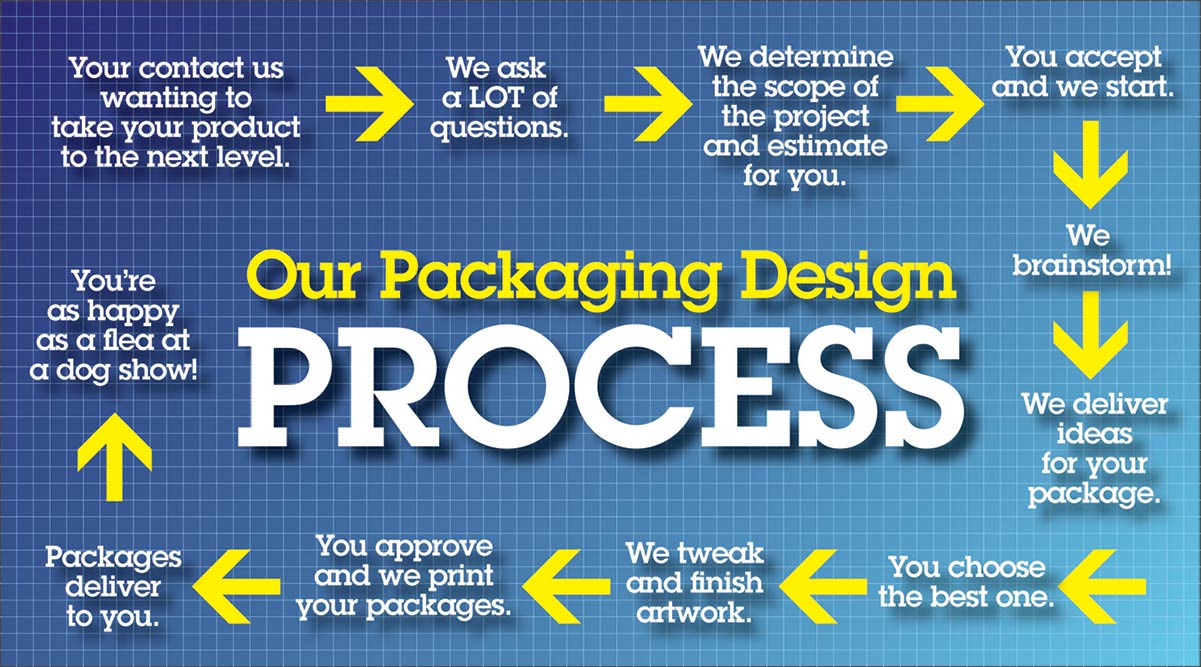 A common question we're often asked is, 'Just how do you go about designing my package? or 'What is your packaging design process?'
We have created a proven, step by step process that enables us to create effective, eye-catching designs that sell your product.
Here's how we create packaging that sells:
You only have 3 seconds to sell a customer as they scan the range of products on the shelf that yours will reside on. To stop those eyeballs we bring 30 years of design and customer feedback into play.
Our first step is our initial conversation - Its Free! (Why wouldn't you call?) - During that discussion, we talk about your objectives - the generalities of the job - the types of packaging that may work best for you - and of course your timing and your budget.
From that call, we can make initial construction suggestions on your package (paperboard, plastic, stand up pouch, labels, corrugate). Then we prepare an estimate for the creative and, in most cases, ballpark the printing cost based on that suggested package style and quantity.
Then it's up to you. But, we trust you'll be engaging with us to start your professional package design.
Next Step - We ask that you fill out our online Packaging Creative Brief -
This is where you provide us details and expectations:
A background on your product. The what, where and why's.
Just who is the audience for your product, male, female, age group, income,
What stores your product will be sold in,
Your likes and dislikes of other packaging designs,
Who is your competition,
What is the history of your product? Has it been sold before? Do you have prototypes or are you in production?
And most importantly, tell us your USP Unique Selling Proposition)? Why should a shopper buy your product instead of your competitor? Knowing this makes all other decisions about your product packaging design easier. Don't know your USP? We can help there too.
It is helpful if you can provide any evaluation of your market, plus your goals and objectives. Also, we will need your product in hand when we start designing your package to work with its size, color and weight. It allows us to accurately size the package.
Research and competitive packaging evaluation phase:
Store Tours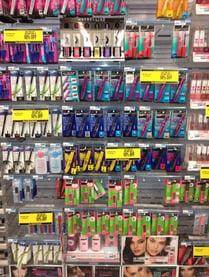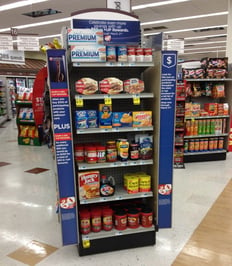 We always conduct store tours as part of our initial research to see where your product will reside 'in the wild'.
These tours give us a lot of info we would otherwise not know.
Though we are very familiar with many retailer layouts, products and displays are changed frequently. Knowing what competition is on the shelf, whether it will be peg hooked or on a bottom shelf provides crucial insight for graphic direction.
We photograph our visits for later reference when designing.
We can even add our designs to 'the shelf image' for a presentation if needed.
Package or shelf rendering is a service we offer to show impact in store. Many times a client will take the packaging design through to a mock up and in store shelf rendering as tools for their sales calls with retail buyers.
This can shortcut the buying process by getting a retailers comments incorporated into your package and make it more acceptable to store placement.
FYI - Not all stores are in our area, so you can send us your own store snap shots (phone images are just fine).
Knowing how the retailers will display your product impacts the solution.
Consideration of how the package will be filled, sealed and the general life cycle of the package is also important in the development of your package.
Whether its a basic tuck flap box, a multi-panel box, or clamshell; we come up with the structure to best fit AND display your product.
The Design Phase
Once research has been completed and digested, we start on the initial Design Phase taking into consideration all the factors and info gathered (competition, colors, placement, audience, budget)
The colors of your logo influence our color strategy along with surrounding competition. If we are designing for a product line we will ask if a visual cue is needed to define pricing or feature factor.
First the structure that will hold the product must be rationailzed. The structure determines the type of material your package should be produced with as well as whether it needs protection from breakage and the cost of printing. This also directs which resources can produce it.
We contact our vendors or printers that will be able to produce the package economically and in the time frame it is needed.
This step will require multiple conversations with them to discuss how their capabilities fit with the specifications of the project, budgets, deadlines and retailer requirements. Some packages use multiple components and require more than one resource.
We choose the best paper / stock selection based on the ideas we present as well as the visual impact your brand needs to stand out on the shelf.
If a custom clamshell or blister pack are the direction you want, these will require extra attention and expense to create molds which will also affect time to completion and of course cost.
Many times small production quantities result in our suggesting the use of a stock clamshell. With a unique custom insert, a stock clamshell displays products for maximum store impact.
Large products require special attention. Large boxes have special printing considerations and are expensive in small quantities.
If they need to be in a box, a custom printed sleeve works well. It can be the most economical solution because it can be produced on an 18pt stock in smaller footprint than a full box.
Surprising to most of our clients, corrugate is one of the most expensive materials to print.
Fonts
What fonts will work best; serif, sans serif, old-fashion, condensed, sleek and trendy? We choose the best based on the design direction and all other factors mentioned above.
Photos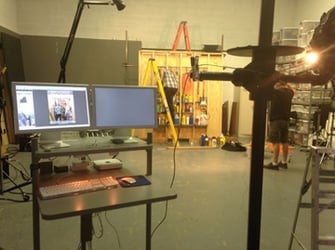 Photography is VERY important to the packaging process, especially food packaging.
We can create 'placement photos' in our layouts to show how we want a photo shot for biggest impact.
It is our recommendation that images be professionally photographed.
When photographing a new product, an approved layout will give us most of the variables we'll need to estimate that shoot as well as know all potential marketing needs.
Does it include a model? Will it need a specific location? Can it be done in a studio? Are multiple angles needed? Will the photos require retouching (most do)?
Food photography and some model photography require a food or makeup stylist. These are added expenses but can save in retouching expenses and provide a better quality image. A stylist's job is to tweak the food or model to look their best for the camera.
Post photo shoot retouching is used to enhance many images and correct some imperfections that camera catches but your eye doesn't.
Highlights and other effects can be added. Many times clients have had photography done prior to working with us. To supply you with a professional product, we would need to see the image prior to inclusion in our layouts to determine if the quality is at a sufficient level.
We'll review those images to determine whether retouching existing images is necessary or new photos are required.
There is also a huge world of stock imagery available that we can use.
Many times we can edit your product into a stock image to achieve the visual message. Stock photos are usually inexpensive.
It depends on usage and stock agency licensing rules. Each photo company has their own license rules. It is important that you read and understand the usage guidelines and comply with them.
Copy / Text
Much thought is given to messaging and distilling the USP down to what will motivate a customer to pick your package up for more detail.
NOT EVERYTHING will or should be on the front of the package.
A cluttered package is an unread package.
We glean a lot of text from what you provide in your Creative Brief and during conversations. When you provide text, please ere on the side of giving us more information than you think we may need.
Instructions and directions are sometimes needed for products. How should this be handled? It depends on the amount of instructions and the type of product.
Products that are powered by battery or electricity require their own set of instructions and may need independent testing. How will these be used by the customer?
Can they be small enough to go on the outside of the package OR should they be on a folded sheet or brochure to be inserted inside the package with the product?
Depending on your product, you may need to contact a lawyer to protect your liability.
A UPC bar code is needed for every product sold by a retailer whether it is a brick and mortar store or a web store like Amazon. If you've never purchased a UPC, we can help explain how to get a UPC bar code. You can read more about UPCs here.
Nutritional chart, ingredients and other disclaimers are needed depending on the product. Nutritional information / ingredients can be obtained through independent food testing & analysis labs.
Ideation Usually Starts With Sketches
Yes, we can start with sketches, but that doesn't always present the idea we want to get across.
Our ideas are usually presented in a roughened state allowing us to present a few options without wasting your money polishing ideas that may not fly.
Usually we begin with the front panel of the package. This is what the customer is exposed to as they walk the aisle. What it communicates has to appeal to the primary reason your audience needs your product. What benefit will they receive from purchasing it?
Once we've digested all info, we start our designs and usually present a couple of ideas to review via PDF, - or - in some unique package styles, a mock up to help you understand how the product fits the package.
Design Refinement
How many edits can I do? We have a history of getting very close with our initial concepts. Two rounds of minor edits before we get to an approved concept is typically all that is needed and maintains an acceptable creative budget.
Creating realistic mock ups
In some cases we present the concept in a store environment. When this is not enough we can do mock ups for an additional cost. These are usually digitally printed packages and will closely resemble the final printed package. Our clients find it helpful to see their package in a store environment.
Selling to a Buyer Prior to Printing
3 dimensional mock ups are used to put in front a buyer prior to help get that order. Many times a buyer will have opinions about what will sell in their store and will suggest edits to your package to make it a better 'fit' for them.
Things we consider that other packaging designers don't
• Competitor's designs,
• Store placement and display,
• Does it need to be peg hooked or stand on its own or both?
• Will more than one panel be needed as a front panel because of how the store will shelve it?
• Are there any stock package options that may work with the need of a low quantity start?
• Will this package be the start of a line of products with a family appearance?
• Does the target demographic suggest a certain design style?
We look at the design from the customer's perspective. Is it aimed at women? How would a women want to be spoken to? What colors appeal more to the consumer? 
Does it need to be bi-lingual or tri-lingual for sales in US, Canada, Europe or Mexico? The design will need to accommodate translations those other countries.
Will you need case packs, master packs? Will you need counter displays, aisle displays, websites?
While these may not need to be tackled at the same time as packaging, knowing they are next in line will help expedite their creation.
I hope this helps in your understanding of all that is involved in creating a professional packaging design and how we work with our clients. This is only a fraction of the thoughts and actions in our creative process. We can help you through the packaging process from concept to design, through feedback & updates to final production.
Still need more info? Try these blog articles:
Don't hesitate to comment should you have more questions.