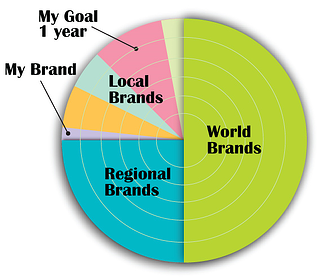 If you had advertising dollars and brand awareness in the world, success is still not guaranteed. There are too many factors that can affect the of your marketing results. Sustaining a successful business requires knowing everything about your competition. Most companies don't take the time to truly think about their competition, and that's a huge mistake – and a potential risk of your customers flocking to competitors for something you weren't aware of.
There are three issues to think about when you consider your competition:
Who are your local competitors that are taking the most market share away from you?
What makes them successful? Do they have a professional ecommerce website design, great customer service, or killer retail packaging design?
Who are your favorite leaders in your business segment? What do they offer that makes their customers loyal? What are they doing that you admire?
Studying your competition gives you a chance to set a benchmark for performance and an opportunity to stay ahead by re-evaluating your strengths and weaknesses and offering better products and services. Though your business may not be the size or have the brand clout of Pepsi, you have a much better chance for success with your marketing efforts by analyzing the manner in which the category leader got to the top - by being committed to building a successful, profitable business from the top down and having a playbook that defines culture and winning at every position. Be honest about your position in the market and set a reasonable goal to surpass your closest competitors. Having a goal, knowing the competition and having a plan with short-term, attainable goals makes it possible to increase market share.
Don't just review your competitor's dominance in store. Look at their online presence, social media efforts, traditional advertising and promotions. Their marketing budget is driven by their sales goals. Are you investing enough to retain your marketshare or grow it? What advantages do you have because of your size and location that you can leverage that the dominant players can't? What talent does your staff have that you haven't tapped yet?
Leveraging technology by using automated marketing solutions allows you to stay in touch with your customers without adding staff. An email marketing campaign with special offers and information about new products gets your business name in front of your customers and prospects regularly at a more economical cost than direct mail, radio or TV. Doing the same thing that has always worked for year and doing what your competition is doing with out tracking how well the money you are spedning on marketing in that way is not going to help you reach your goals. Take 2 hours and answer my 3 simple questions honestly and with real data not just what you think you remember. Then take action and make one change immediately to your marketing that will help you build your brand and grow business. It could be to stop spending money in the wrong place.
So, I end with this one question you should ask yourself every month...How Well Do I Know My Competition?