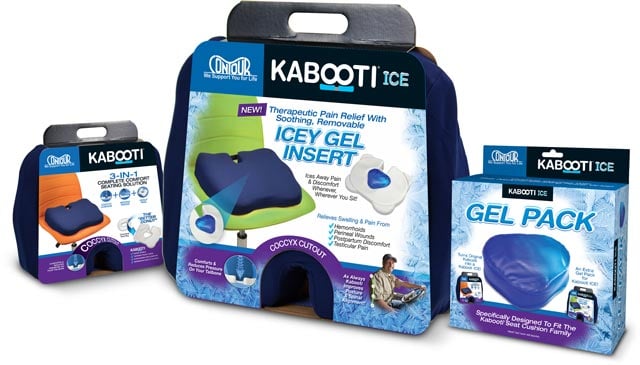 On the heels of a strong sales performance of the original Kabooti product and packaging, Contour Living again retained Catalpha Packaging to design this new product packaging. Kabooti products are aimed at the Home Health Care audience, an expanding market as baby boomers grow older. And a market full of products that have been neglected for their brand and packaging design efforts.
This Kabooti product line easily stands out among other store packages. Contour can see the difference a quality packaging design has in the Kabooti's popularity and sales. Now the Kabooti product has a cooler brother. The Kabooti ICE product, same as the Kabooti, but with a freezable gel pack middle to help keep your lower anatomy cool after surgery or injury.
Using a similar package structure to the original Kabooti, Kabooti ICE uses a family design appearance with the addition of 'frosty edging' to highlights it's main feature.
Contour expects the Kabooti ICE to be another hit and has also created a gel pack insert product as an accessory. That package design also keeps the family appearance and frosty edge design. Look for them all in a Home Health Care store near you.