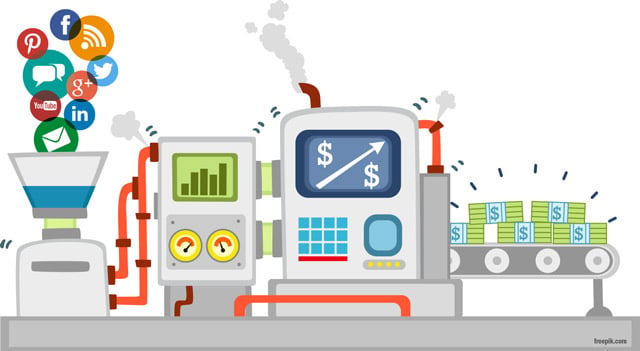 One way or the other, every business uses some form of marketing or sales automation to make various repetitive processes easier. But what is the best software to use for inbound marketing? Here are the best programs of 2019 with review.
#1 Autopilot
If you like working in style, Autopilot is for you. It has some of the best visuals in the market right now making it a popular choice among those who value the interface of their marketing software. There is a free trial available and the pricing is $20-50 per month.
This platform will allow you to make your messaging, email marketing, and other processes easier through the various automation features Autopilot offers. The biggest benefit of this marketing solution is that you can create complicated tasks as well as simple ones.
Some other tools and features Autopilot offers include bulk data import and export, prospect activity feed as well as behavior tracking in real-time, an HTML email editor, dynamic text personalization, and more.
#2 GetResponse
If you are looking for a solution with many options, then GetResponse will probably suit your needs. It offers a variety of features that can be acquired with different monthly plans that start out at a very affordable price of $15 per month. Of course, there is a 30-day free trial.
Just like Autopilot, GetResponse is very easy to navigate and work with. However, this solution is best used for simple tasks such as email newsletters rather than something more complicated such as marketing automation. It's just not built for that. Here are some features you will love:
Email Marketing: Newsletters, Autoresponders, RSS-to-email, etc.
Landing Pages: Split tests, Custom domain, Pages & visitors, Visual page editor
Autofunnel: Webinar, sales, and lead funnels
Webinars: Recording storages, Unlimited live and paid webinars, etc.
Forms & Surveys: List builder apps, Web forms, Surveys
Automation: Drip campaigns, Contact tagging, Click & open followups, etc.
Ecommerce Tools: E-product delivery, Custom order forms, etc.
Drive Traffic: Social Ads Creator, Facebook Ads, Instagram Ads
Templates & Images: Email, landing page, webform, and autofunnel templates, etc.
Other: Tracking and reporting, Team management, CRM, 150 integrations, and more
#3 Pardot
Pardot is a part of SalesForce and a cloud automation solution for enterprises. The reason why it is most suitable for enterprises is that such big companies have more time and resources to learn the platform. The pricing starts at $1,250 per month but you can request a demo to try it first.
Obviously, Pardot will not be as accessible for entrepreneurs and small businesses, but if you do have the resources for it, definitely try this solution. After all, it offers various features for:
Email Marketing
CRM Integration
Lead Nurturing & Scoring
ROI Reporting Functionality
Website Interactions Tracking
User Management
B2B Marketing Analytics
Multivariate Landing Page Testing
Tracked Social Posts
#4 Drip
When looking for the most appropriate solution for yourself, you need to keep in mind the kind of marketing you will be doing. Drip, for instance, is most suitable for e-commerce marketing automation. The monthly fee is $49-1,740 depending on the number of people in your account.
Drip lets you either test a demo version or try a 14-day free trial. Because it is focused on e-commerce marketing, you will probably want to reach international audiences. You can use a translation service like The Word Point to translate your content and then work with Drip.
Some of the features Drip has that you will want to check out include email builders, personalization and analytics tools, multi-channel marketing, email campaigns, automation workflows, and so much more.
#5 Mautic
Mautic is another special solution on this list as it is the only one that is an open-source marketing automation platform. Mautic is fairly new but already has over 200 thousand organizations working with it. You can request a demo, try a free trial, or request a quote with pricing for your specific needs.
Mautic has very many tools and features you will like that help with marketing automation, social marketing, lead verification, targeted multi-channel campaigns, drip campaigns, traffic data monitoring, dynamic content creation, and more.
#6 SendinBlue
SendinBlue is one of the most powerful email marketing tools and automation software currently available on the market. If you know who your target audience is, then you will be unstoppable with SendinBlue. By the way, the cheapest monthly comes at $0 which is perfect for beginners.
Moreover, SendinBlue is also suitable for enterprises having such advanced features as reporting and lead scoring. Other unconventional features you will find at SendinBlue include:
SMS Campaigns
Retargeting Ads
Landing Page Builder
Advanced Segmentation
Core API Features
Heat Map Reporting
SSO & SAML
#7 Ontraport
Unlike some previous solutions on this list, Ontraport is perfect for small businesses, entrepreneurs, and solopreneurs. This software focuses on reporting and insights which means that you will get accurate reports on the performance of your campaigns. There are a free trial and four monthly plans available ranging from $79 to $497 per month.
Ontraport offers all of the essential marketing automation and CRM functionality along with special features for landing pages, email marketing, reporting, and e-commerce. This solution allows you to store and manage all your data in one place safely.
#8 Marketo
Recently acquired by Adobe, Marketo is a reliable solution with a pretty good reputation. From lead management to mobile marketing to customer base marketing, Marketo has it all. There are bundles of features to choose from or separate plans when it comes to pricing.
Marketo's Adobe integration has its own benefits. For example, if you use Adobe Analytics and Adobe Target, combining them with Marketo will give you a very powerful enterprise marketing suite. Consequently, you could say that Marketo is more suitable for enterprises.
#9 InfusionSoft
InfusionSoft, also known as Keap, is one of the veterans on this list. It has helped thousands of organizations and marketers with various tasks and continues to evolve with every year. There is a demo version you can try first and the pricing starts at $199 per month.
While InfusionSoft is mainly tailored for small businesses and solopreneurs, you still have the ability to set up complex decision trees based on a variety of decisions your customers make. This solution can help you improve your lead acquisition, increase your revenues, and make many other asks of your marketing better.
#10 HubSpot
This is the inbound marketing software Catalpha uses. We moved from another program to HubSpot because of the personal support they provided to onboard, personal attention, and the continued technical support. This customer relationship management (CRM) software keeps all your contacts in one centralized, customizable database. It manages your sales funnel, everyone you assign can access prospect data, and manage the sales steps to keep deals moving forward.
You can track-see lead activity and interaction -- no more digging through inboxes to find information. It's designed for small and medium-sized businesses (10-200 employees) that are ready for more advanced features but don't need a complex enterprise-level CRM. They offer a free option to help you get started.

#11 ActiveCampaign
Last but not least, ActiveCampaign is a CRM with email marketing and automation features most suitable for small businesses. There are four monthly plans to choose from with the cheapest one starting at only $9 per month. You can also request a demo to try the software.
The biggest advantage of ActiveCampaign is its variety when it comes to marketing automation functionality. Of course, this means that you will need some time to get acquainted with all the features, but if you are ready to learn, this solution might be the right one for you.
Final Thoughts
All in all, you will definitely be able to find a program from this list that will serve your needs the best. We choose Hubspot because of the on boarding and continued support they provide which wasn't available from a competitor. So a top consideration in you select is which CRM will your employees will use? It's not easy to switch CRM platforms because the assets you create (CTAs and funnel tools) are not transferable.
Think through your choice carefully before purchasing the software and make sure to get a demos before committing to the longterm relationship.