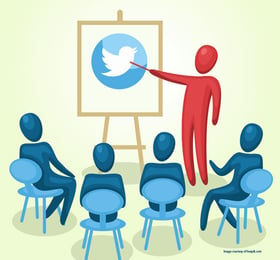 Twitter is one of the strongest social platforms. First adapted by businesses now every demographic is on it with the fastest growing segment being 55-65 year olds. Everyone is not a fan of Twitter. Many think it is a waste of time. But that is because you don't know enough about Twitter's value to business.
I advise my clients to evaluate which social sites have the demographics of their target audience, even survey existing clients about their preferences. If Twitter has a sizeable audience on Twitter that you want to reach then commit to being active. Here are five things you probably don't know about Twitter. Some will let you work like a marketing pro.
How to use Twitter as a search engine
Twitter is more than a social media platform. It has a powerful search engine feature to search conversations in real time. For marketing and sales professionals you can engage in conversations about products or services as they are happening.
Let's say you are a wedding photographer, by searching the hashtag #engage you'll see everyone announcing their engagement on Twitter. You can narrow the search by location, as well. And there is more. You can search keywords, people, places and, even, tone.
#Hashtags as conversation filters
#Hashtags are not fully understood by many. My daughter tells me they are just an exclamation point without any other purpose or effect. But that is not completely true. Click on a hashtag and you see everyone's conversations associated with that word, not only the people you follow. Hashtags magnify the keyword like an exclamation point but in social realm they join it to a stream of conversations about that word. This is great for monitoring conversations and finding opportunities to engage with your target audience. You'll notice TV shows, brands, publications and movies using hashtags in their promotional messages. Brands will monitor these to see how much buzz is generated throughout their launch. The brand manager needs this data for planning.
Using lists on Twitter
Improve chances of finding what you need using lists. Twitter lists help you organize and monitor conversations. For instance I have 3 vertical markets. Twitter lists organize conversations by subject that is of interest to your prospective clients so you can react quickly when a conversation starts that you can contribute to.
Promote a contest through Twitter
Regal Cinemas used Twitter for a gift card promotion asking users to follow and retweet a message to qualify for a chance to win a prize. They used Twitter to announce the contest targeting users with profiles similar to the existing followers with Promoted Tweets ( Twitter ads). They placed messages in front of twitter users mostly likely to be interested in Regal Cinemas content. Promoted Tweets increased engagement during the campaign by 3.5%.
Pushing effectively
Twitter can be really effective when used properly. People know when you are just pushing tweets and you can loose followers because of it. Pushing messages from Facebook to Twitter can be damaging. People are on Facebook not Twitter for a reason. People pay more attention to direct messages (direct tweets) because they don't get as many of those as emails. It's like instant messaging. Tweet to converse in real time.
For those deeply engaged in Twitter, my readers would love to hear your tips for using Twitter to help build brands or sales. Please share them!
If you found this blog useful please share.
For more tips, download this Twitter ebook.